St-Germain-Blueberry Summer Pudding
Early Summer 2016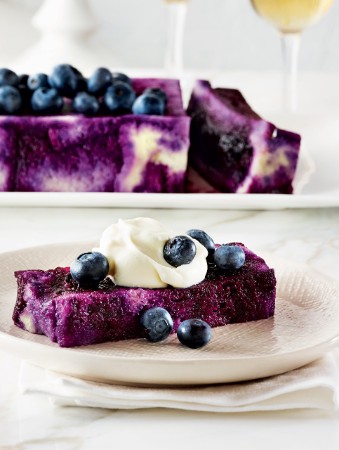 St-Germain-Blueberry Summer Pudding
Early Summer 2016
BY: Amy Rosen
This is the easiest dessert you will ever make in your life. (Also one of the tastiest.) All it takes is store‑bought bread, a bunch of berries and eight hours of refrigeration. In fact, it's so easy that I've decided to make you whip up some cream goosed with elderflower liqueur. A little naughty to go along with all of that nice.
4 cups (1 L) fresh blueberries
½ cup (125 mL) sugar
Pinch of salt
¼ cup (60 mL) St-Germain liqueur
7 slices white bread, crusts removed
1 cup (250 mL) 35% whipping cream
3 tbsp (45 mL) St-Germain liqueur
1 Cook blueberries with sugar, a pinch of salt and ¼ cup (60 mL) St-Germain on medium-low heat for about 20 minutes, then let cool for 15 minutes.

2 Line a loaf pan with plastic wrap, letting wrap generously hang over the edges. Press crustless bread slices to line the loaf pan so that there are no holes and all seems airtight. This will usually mean 2 slices on the bottom, 3 slices cut in half to line the sides and, once filled, 2 slices on top. Really press and pinch the bread down as this is your "crust."

3 Fill plastic-wrap-and-bread-lined loaf pan with cooled blueberry mixture. Top with remaining bread slices and then wrap the top very well with overhanging plastic wrap, pressing down again.

4 Place 2 cans on top to weigh down your burgeoning summer pudding and refrigerate for 8 hours, rotating cans a couple of times.

5 When time's up, unwrap the top, turn the pudding out and remove all plastic wrap.

6 Whip up cream using a stand or hand mixer and, when soft peaks form, add liqueur and continue beating until a little stiffer.

7 Slice pudding, plate it up and top with a dollop of the cream.
SHARE