Spring Salad with Asparagus, Radish & Burrata Cheese
Early Summer 2018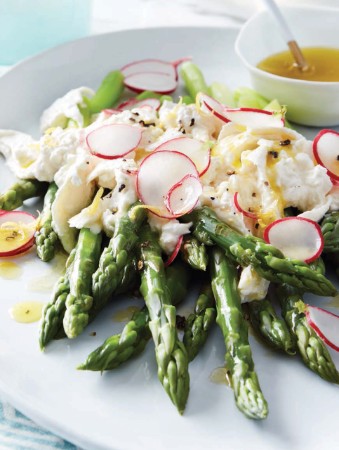 Spring Salad with Asparagus, Radish & Burrata Cheese
Early Summer 2018
BY: Michelle Lucas Larving
The bright, fresh flavours of early summer are the focus of this impressive salad that's incredibly easy to make. Kids can help out by arranging the vegetables on a platter, shaking the dressing in a jar and tearing the burrata into pieces. Don't worry about it being assembled neatly and tidily; this salad is perfectly gorgeous even when it's messy.
1 lb (500 g) asparagus
2 tbsp (30 mL) olive oil
1 tbsp (15 mL) lemon juice
½ tsp (2 mL) grated lemon zest
½ tsp (2 mL) Dijon mustard
Salt and freshly ground pepper
4 oz (125 g) radishes, thinly sliced, about 4 radishes
1 ball burrata cheese, about
½ lb (250 g), drained
1. Bring a large pot of salted water to a boil. Trim tough ends off asparagus and discard. Peel the bottom half of the asparagus. Drop spears into the boiling water and cook for 2 minutes until crisp-tender. Remove and immediately plunge into an ice water bath to chill completely.

2. To make the dressing, into a Mason jar add the olive oil, lemon juice, zest and mustard; seal with the lid and shake until combined. Season with salt and pepper.

3. Arrange asparagus and two-thirds of radishes on a platter. Drizzle with half of the dressing. Tear burrata into large pieces and arrange overtop. Top with remaining radishes and dressing. Season with additional freshly ground pepper.
SHARE