Spring Carbonara Pasta with Easy Green Salad and Garlic Pita Toasts
Spring 2006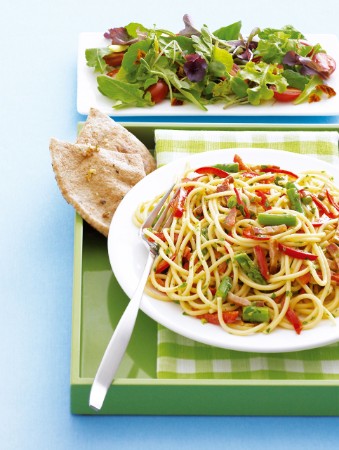 Spring Carbonara Pasta with Easy Green Salad and Garlic Pita Toasts
Spring 2006
BY: Emily Richards
Adding asparagus and peppers to this classic pasta dish brings a breath of spring. Simply adding the asparagus to the pasta water blanches it to perfection. Try the same trick with broccoli or snow peas to change up the taste. If you don't have a scale to measure your 3 oz (90 g) pasta, measure out enough spaghetti to fill the circumference of a nickel. Easy Green Salad and Garlic Pita Toast recipes follow.
2 slices bacon or pancetta
3 oz (90 g) spaghetti
4 stalks asparagus, trimmed and chopped
1 egg, lightly beaten
2 tbsp (25 mL) freshly grated Parmesan cheese
¼ small sweet red pepper, thinly sliced
Pepper
1 tbsp (15 mL) chopped fresh parsley
1.  Cook bacon over medium-high heat in small skillet for about 5 minutes or until crisp. Place on paper-towel-lined plate. Chop and set aside.

2.  Cook spaghetti in large pot of boiling salted water for 6 minutes. Add asparagus and cook for 2 minutes or until spaghetti is al dente. Drain well.

3.  Stir in egg and cheese and toss well to coat. Add red pepper, cooked bacon and pinch of pepper and toss to combine.

4.  Sprinkle with parsley and serve immediately.

Easy Green Salad
2 tsp (10 mL) extra virgin olive oil
1 tbsp (15 mL) apple cider vinegar
½ tsp (2 mL) Dijon mustard
Pinch chopped fresh thyme
Salt and pepper
1½ cups (375 mL) mixed salad greens
6 grape tomatoes
2 fresh basil leaves, chopped (optional)
1.  Whisk together oil, vinegar, mustard, thyme, pinch each of salt and pepper in bowl.

2.  Add salad greens, tomatoes and basil leaves, if using, and toss to coat well.

Garlic Pita Toasts
1 whole-wheat Greek-style pita bread
Extra virgin olive oil
1 small clove garlic, minced
Pinch dried oregano
1. Preheat oven or toaster oven to 425ºF (220ºC).

2. Brush pita bread with some oil and sprinkle with garlic and oregano. Place on small baking sheet and toast for about 5 minutes or until crisp and golden.

3. Cut into quarters and serve with salad.
SHARE