Spirited Pork Belly
Early Summer 2016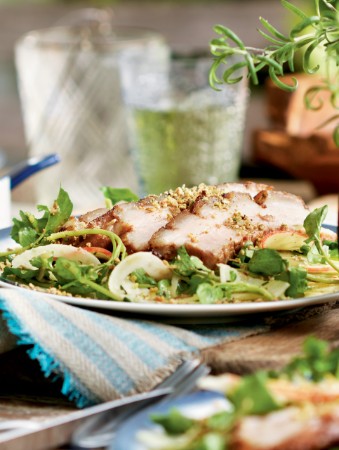 Spirited Pork Belly
Early Summer 2016
BY: Lucy Waverman
You can serve this dish in many ways. Here we serve it cold over a salad with a crumble garnish, but it is equally good sliced and served hot in its sauce with a side of potato salad as well as the fennel salad. The flavour is lively and enticing, hence the recipe name. It keeps for a week refrigerated. If you do not use the sauce, reduce it until it's very thick, then beat it into some mayonnaise and make a pork belly sandwich topped with Asian pickles and lettuce. Or slice and stir-fry the pork with vegetables and finish it with soy and a pinch of sugar.
MARINADE
3 tbsp (45 mL) rice wine vinegar
1 tbsp (15 mL) soy sauce
1 tbsp (15 mL) fresh rosemary leaves
1 tbsp (15 mL) black peppercorns
2 tsp (10 mL) chili flakes
1 tsp (5 mL) fennel seeds
2 tsp (10 mL) salt
1 tsp (5 mL) ground cinnamon
¼ cup (60 mL) vegetable oil
1 tbsp (15 mL) brown sugar

BRAISING LIQUID
1 pork belly, 2 to 3 lbs (1 to 1.5 kg)
1 tbsp (15 mL) vegetable oil
1 cup (250 mL) chopped onion
½ cup (125 mL) chopped carrot
½ cup (125 mL) chopped celery stalk
6 medium garlic cloves, smashed
1 cup (250 mL) hard cider
1 cup (250 mL) pork, beef or chicken stock

CRUMBLE
2 tbsp (30 mL) pumpkin seeds
2 tbsp (30 mL) rolled oats
2 tsp (10 mL) vegetable oil
½ tsp (2 mL) chopped rosemary
¼ tsp (1 mL) cinnamon
¼ tsp (1 mL) brown sugar
Pinch of chili flakes
Salt and freshly ground pepper
2 tbsp (30 mL) chopped pistachios
1 Combine all marinade ingredients except for oil and brown sugar in a blender or in a bowl if using a hand blender. Blend, gradually adding in oil. Once smooth, mix in brown sugar. Reserve.

2 Score pork belly with cross hatches ½ inch (1 cm) apart. Heat a large ovenproof pot over high heat. Add oil and sear pork belly, fat-side down, to render out fat and brown, about 5 to 7 minutes. Flip and sear second side for 2 to 3 minutes. Transfer pork to a dish and pour over marinade. Let marinate on the counter for 30 minutes.

3 Preheat oven to 300°F (150°C).

4 Discard all but 1 tbsp (15 mL) fat from ovenproof pot. Reduce heat to medium and add onion, carrot, celery and garlic. Sauté for 3 minutes or until beginning to soften then add cider. Boil for 3 minutes or until slightly reduced, then add stock. Return pork belly to pot, stirring in marinade. Cover tightly with a lid.

5 Bake in oven for 2½ hours or until pork is very tender. Cool in liquid. Remove pork and place on baking sheet with a smaller baking sheet on top. Place a weight over and leave weighted pork for 2 hours at room temperature. Chill cooking liquid. Spoon fat off chilled liquid and reserve for another use.

6 Increase oven temperature to 400°F (200°C).

7 Mix all crumble ingredients except pistachios together and spread on a baking sheet. Bake for 5 minutes. Toss in pistachios and bake for 5 more minutes or until crunchy. Place in a spice grinder and whirl until texture resembles bread crumbs.

8 Divide Fennel, Apple & Watercress Salad (recipe follows) between plates. Slice pork and lay over salad. Sprinkle pork and plate with crumble.

FENNEL, APPLE & WATERCRESS SALAD WITH MINT VINAIGRETTE

This fresh-tasting salad with a hint of licorice from the fennel is the perfect accompaniment for the pork.

VINAIGRETTE
1 tbsp (15 mL) apple cider vinegar
½ tsp (2 mL) Dijon mustard
3 tbsp (45 mL) olive oil
Salt and freshly ground pepper
1 tbsp (15 mL) finely chopped mint
1 fennel bulb, trimmed
1 Honey Crisp or other eating apple
1 bunch watercress, tough stems removed or 3 cups (750 mL) radish sprouts
1 Whisk together vinegar and mustard. Slowly whisk in olive oil until mixture emulsifies. Season with salt and pepper and add mint. Reserve.

2 Cut the base off the fennel bulb and cut fennel in half lengthwise. Using a mandolin or a very sharp knife slice fennel into thin slices, starting from the bulb end.

3 Cut apple in half and remove core. Shave or slice into thin slices.

4 Place watercress in a bowl. Add fennel and apple and toss together. Toss with vinaigrette, adding extra salt if needed.
SHARE