Spiced Apple Cake
Holiday 2009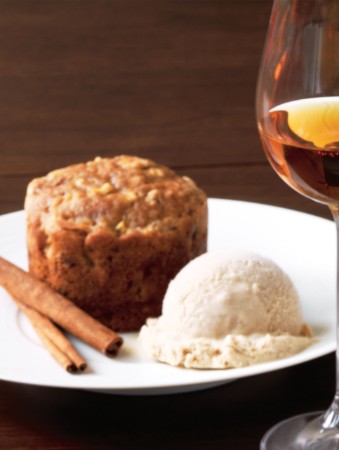 Spiced Apple Cake
Holiday 2009
BY: Tonia Wilson-Vuksanovic
Baking the cake in ramekins gives each guest an individual cake, making for a more special presentation. This can also be baked in a loaf pan for a more casual presentation. It's sure to become a family favourite in either guise.
1/3 cup (75 mL) unsalted butter, at room temperature
1/2 cup (125 mL) sugar
1/2 cup (125 mL) brown sugar
2 eggs, at room temperature
1 tsp (5 mL) vanilla extract
2 tsp (10 mL) orange zest, finely grated (optional)
1 1/4  cup (300 mL) all-purpose flour
1/2 tsp (2 mL) baking powder
1/4 tsp (1 mL) baking soda
1/2 tsp (2 mL) ground cinnamon
1/2 tsp (2 mL) ground nutmeg
1/2 tsp (2 mL) ground ginger
1/4 tsp (1 mL) ground black pepper
1/4 tsp (1 mL) ground cloves
1/4 tsp (1 mL) salt
1 2/3 cup (400 mL) apple, peeled and finely diced
1/2 cup (125 mL) walnuts, coarsely chopped
1/3 cup (75 mL) golden raisins
1.  In a large bowl beat together butter, sugar and brown sugar until light and fluffy.
2.  Beat in eggs, vanilla and orange zest.

3.  In a medium bowl mix together the flour, baking powder, baking soda, cinnamon, nutmeg, ginger, black pepper, cloves and salt. Stir half of flour mixture into butter mixture. When combined stir in the other half until all is well blended.
4.  Stir in apples, walnuts and raisins. Do not add more apple than the recipe calls for as it will cause the cakes to overflow.
5.  Grease six 1½-cup (375-mL) ramekins and divide the batter between the 6.
6.  Heat oven to 350°F (180°C).
7.  Bake on a baking sheet in middle of oven for 45 minutes or until a skewer inserted in the middle of a cake comes out clean. Let cool slightly, remove from ramekins and serve with Calvados ice cream (recipe follows).

Calvados Ice Cream

This luscious ice cream is a real treat, and it's also a great excuse to use up left over spirits. Next time try it with dark rum or pear brandy.

1 cup (250 mL) Calvados
2 cups (500 mL) 35% cream
2 cups (500 mL) homogenized milk
1/2 tsp (2 mL) ground cinnamon
8 egg yolks
1/2 cup (125 mL) brown sugar
1/4 cup (50 mL) sugar
1 tsp (5 mL) vanilla
1/4 tsp (1 mL) salt
1. In a medium saucepan reduce Calvados over medium-high heat by two-thirds; there should be about 3 tbsp (45 mL) once reduced; takes about 8 minutes.

2. To the same pan carefully add cream, milk and cinnamon. Warm mixture to just before the boiling point, do not boil.

3. In a medium bowl whisk together egg yolks, brown sugar, sugar, vanilla and salt.

4. Carefully and slowly whisk warm milk into egg mixture, return this mixture to saucepan.

5. Warm liquid over medium-low heat until the liquid thickens slightly; this will take a few minutes. It will have thickened enough when it coats the back of a spoon; do not let boil or it will be ruined.

6. Pour liquid through a sieve into a clean bowl and let cool completely (uncovered) in the refrigerator. Freeze liquid in ice cream maker as directed. Place in freezer to harden.
SHARE