Spice-Ash-Crusted Rack of Venison with Stinging Nettle & Wild Mint-Scented Pea Purée and Red Wine Glaze
Early Summer 2017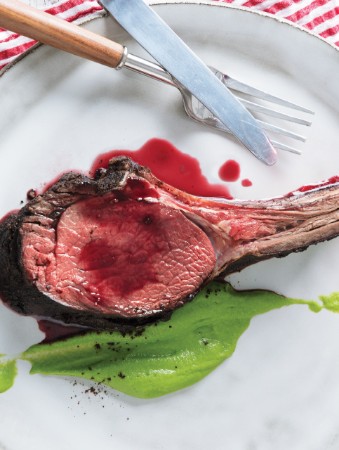 Spice-Ash-Crusted Rack of Venison with Stinging Nettle & Wild Mint-Scented Pea Purée and Red Wine Glaze
Early Summer 2017
BY: Chef Michael Hunter, Antler Restaurant
Substitute lamb, if desired, with three to four chops per person.
RED WINE GLAZE
2 cups (500 mL) red wine
¼ cup (60 mL) sugar
1 cinnamon stick
¼ tsp (1 mL) chili flakes
Salt
PURÉE
3½ cups (875 mL) fresh, shelled peas (use frozen if fresh are not available), 1 lb (500 g) when peeled
1 bunch stinging nettles or 1½ cups (375 mL) spinach leaves
¼ cup (60 mL) chopped fresh mint
¼ cup (60 mL) vegetable stock or water
1 tsp (5 mL) white wine vinegar or more to taste
Freshly ground black pepper
VENISON
2 lb (1 kg) rack of venison, with 6 chops
¼ cup (60 mL) plus 1 tbsp (15 mL)
Spice Ash, optional (recipe follows)
2 tbsp (30 mL) vegetable oil
1 To make glaze, bring wine, sugar, cinnamon and chili flakes to a boil in a small pot. Reduce heat to medium and simmer until reduced to ¼ cup (60 mL), about 50 minutes. Season with salt. Reserve.
2 Preheat oven to 350°F (180°C).
3 To make purée, bring a pot of water to a boil and season with salt. Prepare a large bowl of ice water.
4 Add peas to the boiling water and cook until bright green and tender, about 2 minutes. Add nettles and boil until just wilted, about 3 seconds. Drain then immediately plunge peas and nettles into ice water until cool. Drain well.
5 Purée peas, nettles, mint and stock in a blender until very smooth. Season with vinegar, salt and pepper to taste. Adjust thickness with more stock if needed. For a velvety texture, pass through a fine-mesh strainer. Keep warm.
6 Season the venison with salt and pepper. If using ash, rub 1/4 cup (60 mL) onto the meat. Heat oil in a large ovenproof skillet over high heat. Sear venison until browned on all sides, about 4 minutes in total. Transfer to a baking sheet and roast to medium-rare, about 30 to 40 minutes. Roast 10 minutes longer for medium.
7 Carve the venison into chops. Divide remaining 1 tbsp (15 mL) ash over each serving plate. Add venison and purée; coat venison with a little red wine glaze.
SHARE