Sparkling Autumn Rosé
Autumn 2012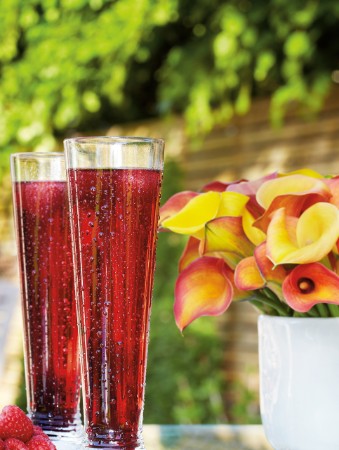 Sparkling Autumn Rosé
Autumn 2012
BY: Sarah Goddard
A veritable fruit market in a glass, this mouthwatering cocktail is a medley of favourite autumn flavours. Experiment with the ingredients a bit and add your own personal touch.
1 apple (with core and seeds removed)
1 plum (with pit removed)
1 pear (with core and seeds removed)
1 oz honey
¼ lemon, zested
4 oz Apple Sourz
4 oz Cointreau
2 oz Smirnoff Vanilla Vodka
16 oz Ontario sparkling rosé
1. Place all of the ingredients (except the sparkling wine) in a blender, and blend on high speed until smooth. Pass this purée through a strainer to remove any skin.

2. Place the purée in a cocktail shaker with ice, and shake until well chilled. Divide the purée equally into 4 chilled Martini glasses or Champagne flutes. Slowly pour 4 oz of sparkling rosé into each glass and lightly stir. Garnish with a wedge of plum on the rim of each glass, if desired.


SHARE