Simple Roast Chicken Stuffed with Fall Herbs
Autumn 2017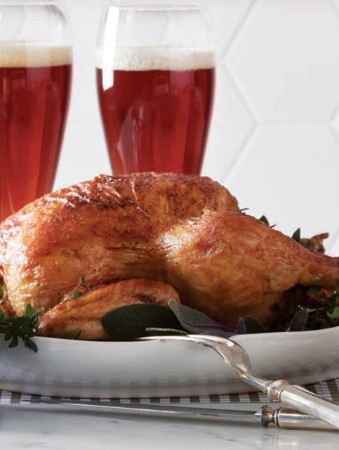 Simple Roast Chicken Stuffed with Fall Herbs
Autumn 2017
BY: Heather Trim
There are many opinions on the best way to roast a chicken, and most will give you great results. But, for me, roast chicken must have crispy skin and it needs to be easy, as it's my stand-by weeknight supper. To that end, I don't truss the chicken and if it comes trussed, I cut and throw away the string (to help the skin crisp up nicely between the joints). While the smoked paprika is by no means a necessity, it gives the bird a nicer colour and adds another layer of flavour. I roast at 400°F (200°C), as that's a good temperature to throw in a tray of your favourite vegetables for roasting.
1 whole chicken, 3 to 3½ lbs (1.5 to 1.75 kg)
Kosher salt and black pepper
2 lemon wedges, optional
2 whole cloves garlic, peeled
Several sprigs each of fresh sage, thyme and rosemary
Smoked paprika, either sweet or hot
1 tbsp (15 mL) butter, at room temperature

GRAVY (OPTIONAL)
1 tbsp (15 mL) all-purpose flour
1 to 1¼ cups (250 to 310 mL) chicken stock or broth
1 large clove garlic, minced
1 sprig fresh thyme
1 to 2 splashes hot sauce
1. Preheat oven to 400°F (200°C).

2. Do not rinse chicken. Discard string if chicken is trussed; remove giblet package if inside chicken (discard or save for another use). Using scissors, cut away and discard excess fat near cavity opening. Generously season cavity of chicken with salt and pepper. Stuff with lemon wedges, garlic and herbs. Generously season outside of chicken with salt and pepper, then lightly sprinkle with paprika. Dab butter overtop chicken.

3. Place whole chicken, breast-side up, in a large, heavy, ovenproof, low-sided casserole or heavy frying pan (such as cast iron) that's not much larger than the chicken. The dish you choose should be able to go right onto stovetop to make gravy. Roast in centre of preheated oven 1 to 1¼ hours. Baste once or twice with juices during the last 15 minutes of roasting.

4. Chicken is ready when juices run clear when a knife is poked into the meatiest part of thigh. Set on a cutting board and let stand 10 minutes.

5. Meanwhile, if making gravy, discard all but about 2 tbsp (30 mL) of fat in pan. Whisk in flour to form a paste. Whisk in 1 cup (250 mL) stock until a gravy forms. If needed, add remaining chicken stock to thin the gravy. Add garlic, thyme and hot sauce. Simmer gently for a couple of minutes. Taste and add salt and pepper as needed.
SHARE