Shrimp & Salmon Burgers with Lemon Aïoli
Summer 2021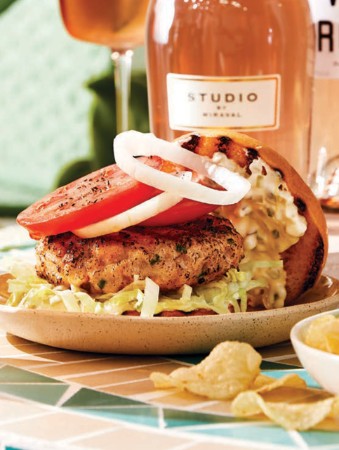 Shrimp & Salmon Burgers with Lemon Aïoli
Summer 2021
BY: Miranda Keyes
These burgers are incredibly satisfying, thanks to their wonderful texture. When processing the second batch of seafood, make sure not to over-blend, as you want generous pieces of salmon and shrimp studded through the burger for a beautiful consistency. The longer the lemon aïoli sits in the fridge, the more intense the flavours will become.
BURGERS
1 bag (340 g) peeled raw shrimp, thawed and drained well, divided
1 lb (455 g) skinless salmon fillet, sliced in half, divided
1 large egg, beaten
1/2 cup (125 mL) panko bread crumbs
2 tbsp (30 mL) finely sliced chives
1 tsp (5 mL) chilli flakes
1 tsp (5 mL) salt
LEMON AÏOLI
3/4 cup (175 mL) mayonnaise
1 large dill pickle, finely diced, about 1/4 cup (60 mL)
2 tsp (10 mL) lemon zest
1 tbsp (15 mL) lemon juice
1 garlic clove, finely grated
1/4 tsp (1 mL) salt
TO ASSEMBLE
4 soft white burger buns
Shredded iceberg lettuce
Vidalia onion, thinly sliced
Beefsteak tomato, sliced
1. For the burgers, to a food processor, add half of the shrimp and half of the salmon. Whirl until smooth, then scrape into a large bowl. Add remaining shrimp and salmon to the food processor. Lightly pulse until roughly chopped, 7 or 8 pulses. Transfer to the same bowl along with egg, panko, chives, chilli flakes and 1 tsp (5 mL) salt. Gently mix until combined and shape into 4 equal-sized burgers, about 1/4 inch (1 cm) thick. Burgers will be wet (see TIP 1).
2. For the aïoli, in a small bowl, combine mayonnaise, dill pickle, lemon zest, lemon juice, garlic and 1/4 tsp (1 mL) salt (see TIP 2).
3. Cook burgers over a high grill for 3 to 4 minutes per side, until seafood is cooked through and burgers are golden.
4. Toast buns on the grill, if desired. Smear bottoms and tops of buns with aïoli, then top each one with lettuce, 1 burger, onion and tomato. Serve immediately.
TIP 1 Burgers can be made up to 1 day in advance, covered with plastic wrap and refrigerated.
TIP 2 Aïoli can be made up to 2 days in advance, covered with plastic wrap and refrigerated.
SHARE