Shrimp & Corn Tempura Patties
Autumn 2009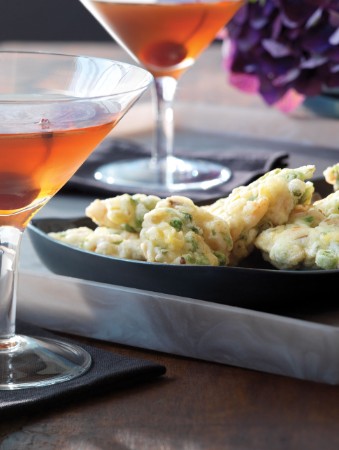 Shrimp & Corn Tempura Patties
Autumn 2009
BY: Tonia Wilson-Vuksanovic
These patties can be made with an endless variety of ingredients. Try them with cooked chicken, diced zucchini, cooked broccoli, red onion, asparagus or cooked cauliflower.
1¼ cups (300 mL) all-purpose flour
¼ tsp (1 mL) baking powder
2 large eggs, lightly beaten
1¼ cups (300 mL) ice cold water
1 cup (250 mL) cooked baby shrimp, coarsely chopped
1 cup (250 mL) button mushrooms, coarsely chopped
1 cup (250 mL) frozen corn, thawed
1 cup (250 mL) frozen peas, thawed
½ cup (125 mL) green onions, finely sliced
2 tbsp (25 mL) fresh cilantro, coarsely chopped
¼ tsp (1 mL) red pepper flakes
½ tsp (2 mL) salt
1 cup (250 mL) vegetable oil for frying
1.  In a medium bowl, whisk together flour and baking powder. Stir in eggs. Whisk in ice cold water to combine; some small lumps
should remain. Let rest while preparing shrimp and vegetables.

2.  In a separate bowl, stir together shrimp, mushrooms, corn, peas, green onions, cilantro, red pepper flakes and salt. Stir shrimp
mixture into tempura batter; combine well.

3.  In a large wok or saucepan heat oil over medium-high heat. Oil should be heated to 350°F (180°C) or should sizzle immediately when a small amount of batter is added to the pot.

4.  Fry patties in batches by carefully dropping a heaping tablespoon of batter into oil for each patty. Fry on 1 side for 2 minutes, flip
over and continue to cook for another 2 minutes. The patties should not be browned.

5.  Drain fried patties on paper towel and serve immediately with Soya Dipping Sauce (recipe below).

Soya Dipping Sauce
This is a fast and easy dipping sauce that goes beautifully with most Asian appetizers and can last for weeks in the refrigerator.

2 tbsp (25 mL) soy sauce
2 tbsp (25 mL) sweet chili sauce
1 tbsp (15 mL) water
1. In a small bowl stir together soy sauce, sweet chili sauce and water. Serve with Shrimp & Corn Tempura Patties.
Makes ¼ cup (50 mL) sauce
SHARE