Shellfish Poached In Beer
Summer 2006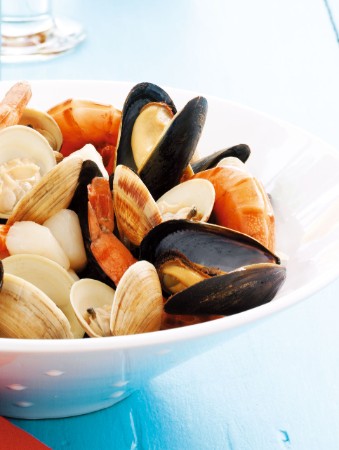 Shellfish Poached In Beer
Summer 2006
BY: Lucy Waverman
Place on table in a large serving bowl and let people help themselves - it's messy but great fun. Serve with coleslaw and potato salad. Leftover beer is acceptable for this recipe.
Two 341 mL bottles beer
1 cup (250 mL) water
8 cloves garlic, peeled
2 bay leaves
6 branches of parsley
6 peppercorns
1 tbsp (15 mL) lemon juice
1 tbsp (15 mL) chili powder
1 tbsp (15 mL) salt
1 lb (500 g) clams
1 lb (500 g) mussels
1 lb (500 g) large shrimps
1 lb (500 g) scallops

Lemon Butter
1 cup (250 mL) butter, melted
2 tbsp (25 mL) lemon juice
2 tsp (10 mL) chopped garlic
2 tbsp (25 mL) chopped chives
1. Combine beer, water, garlic, bay leaves, parsley, peppercorns, lemon juice, chili powder and salt in a large pot. Bring to boil, reduce heat and simmer for 15 minutes to combine flavours.

2. Raise heat to high, add clams and cook for 3 minutes. Add mussels and boil for 2 minutes or until opened. Remove shellfish as they open, to a large serving bowl.

3. Reduce heat to low, add shrimps and scallops and poach for 2 to 3 minutes depending on size or until shrimp are pink and slightly curled, and scallops are still opaque in the centre. Remove from broth and add to other shellfish.

4. Combine butter, lemon juice, garlic and chives. Serve as a dip with shellfish.
SHARE