Sesame Crackers
Autumn 2010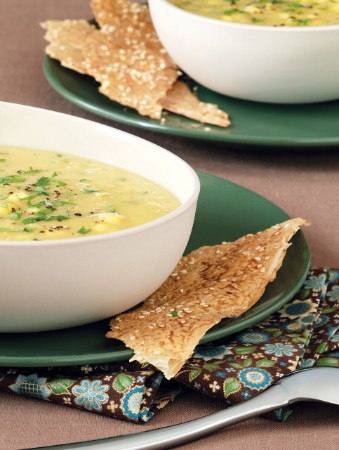 Sesame Crackers
Autumn 2010
BY: Julia Aitken
Thaw wafer-thin phyllo pastry according to the instructions on the box, then remove three sheets for this recipe and return the rest of the box to the freezer.
1 egg yolk
1 tbsp (15 mL) cold water
3 sheets frozen phyllo pastry, thawed
4 tsp (20 mL) toasted sesame seeds
¼ tsp (1 mL) each salt and
freshly ground black pepper
1. Preheat oven to 350°F (180°C). Line a large baking sheet with parchment paper.

2. In a small bowl, whisk egg yolk and water.

3. Stack sheets of phyllo one on top of the other; cut in half crosswise. Lay 2 pieces of phyllo side-by-side on baking sheet. Brush each with egg-yolk mixture; sprinkle with one-third of sesame seeds. Top each with another piece of phyllo, brushing with egg yolk and sprinkling with sesame seeds as before. Repeat layers. Sprinkle each stack of phyllo with salt and pepper.

4. Bake for 8 to 10 minutes or until phyllo is crisp and golden brown. Use parchment to lift hot phyllo stacks off baking sheet, then slide them onto to a wire rack to cool completely.Break roughly into large pieces.
SHARE