Seared Scallops with an Icewine Leek Purée
Summer 2011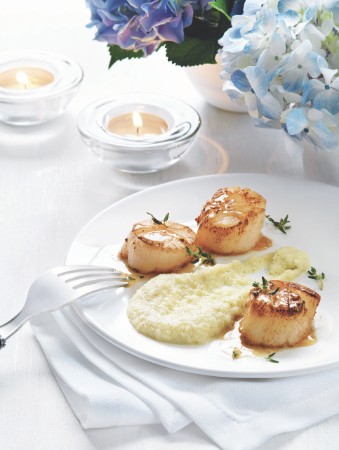 Seared Scallops with an Icewine Leek Purée
Summer 2011
BY: Nicole Young
Icewine, scallops and leeks are a perfect complement to one another. Searing the scallops brings out their sweetness. The trick to getting a good sear is to pat the scallops dry before using them and waiting until the pan is hot and the butter is foamy before putting them into the pan.
1 lb (500 g) large scallops, small ligament from the side of each discarded
½ tsp (2 mL) each coarse salt and fresh cracked pepper
¼ cup (60 mL) butter, divided
1 tbsp (15 mL) olive oil

PURÉE
2 cups (500 mL) sliced leeks, white and light green parts only
1 tbsp (15 mL) fresh thyme leaves
½ cup (125 mL) icewine
¼ cup (60 mL) heavy cream
1 Pat scallops dry and season with salt and pepper.

2 In a large heavy skillet, heat butter and oil over medium-high heat until butter is melted and foamy. Add scallops and sear, turning once, until dark golden brown and just cooked through, about 5 minutes total. Transfer to a platter to rest.

3 Add leeks to same pan with thyme and icewine, scraping up any brown bits from the bottom of the pan. Reduce heat to medium-low, cover and cook leeks until they are very tender and the icewine has been absorbed, about 5 minutes. Pour in cream, and blend with immersion blender (or transfer to a blender) until smooth. Season with additional salt and pepper if desired.

4 To serve, divide leek purée over 4 plates. Add scallops, drizzling any remaining juices overtop.
SHARE