Seared Peaches with Blueberries and Lavender Crème Anglaise
Summer 2008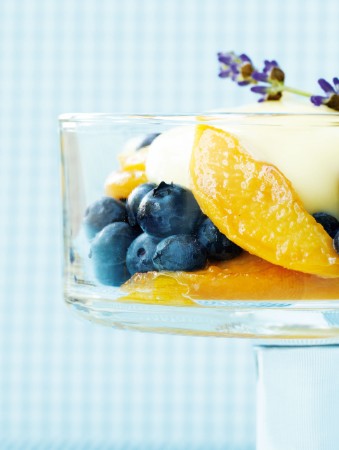 Seared Peaches with Blueberries and Lavender Crème Anglaise
Summer 2008
BY: Marilyn Bentz-Crowley
This crème anglaise sauce is thickened with a bit of flour, which also provides an accurate measure of when the sauce is perfectly cooked. Use only lavender leaves from an unsprayed garden―omit if not available. This compote is a delicious finale to any summer meal but especially lovely at breakfast or brunch sprinkled with granola. (Use leftover egg whites to make a batch of Double-Almond Tuiles.)
½ cup (125 mL) granulated sugar
3 tbsp (45 mL) all-purpose flour
3 egg yolks
1¾ cup (425 mL) cold whole 3.25% milk
¼ cup (50 mL) coarsely chopped fresh lavender leaves
½ tsp (2 mL) pure vanilla extract
6 large or 10 medium peaches, preferably freestone
Nonstick spray or butter to coat
2 tbsp (25 mL) honey
2 cups (500 mL) fresh blueberries, about a pint container
1. Stir sugar with flour in a medium saucepan. Whisk yolks into milk; stir into sugar mixture with a wooden spoon until well mixed. Add lavender leaves. Cook over medium heat for 12 to 15 minutes, stirring frequently and then constantly towards end of cooking time, until sauce thickens and coats the spoon. (A bubble or 2 is okay, but do not boil!) Remove from heat; stir in vanilla. Strain into a metal bowl; discard lavender. Press a piece of plastic wrap directly onto surface; refrigerate immediately for up to 2 days.

2. Half-fill a large saucepan with water; bring to a boil. Plunge peaches in batches of 2 into the water for 45 to 60 seconds to loosen skins. Remove to a large bowl of cold tap water. Repeat. Peel peaches; cut into about 12 slices per peach and discard stone.

3. Preheat broiler; coat baking tray (with sides) with nonstick spray or lightly butter. Pat peaches into a single layer. Measure honey into a small measuring cup; heat in microwave for 5 to 10 seconds to thin. Drizzle over peaches.

4. Broil peaches for 8 to 10 minutes or until browned in spots and softened. Cool 15 minutes or until just warm; turn peaches and juices into a large bowl. Stir in blueberries. (If making ahead, cool peaches completely; refrigerate for up to 2 days. Warm briefly in microwave or in a saucepan; then stir in blueberries.)

5. Stir cold crème anglaise until smooth. Spoon compote into serving bowls, nap with crème anglaise. Garnish with a fresh sprig of lavender or a few scattered lavender flowers. Serve with granola at breakfast or crisp cookies at other meals.
SHARE