Scotch Olives
Holiday 2014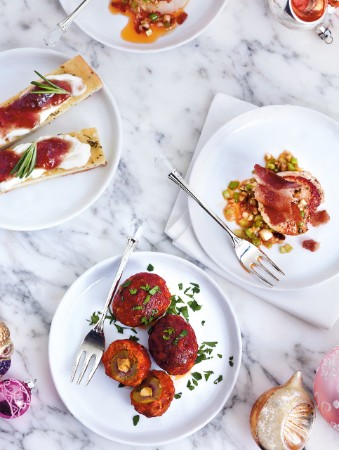 Scotch Olives
Holiday 2014
BY: Christopher St. Onge
Inspired by Scotch eggs, these canapés can be assembled a day in advance and cooked when you're ready to serve. Purchase uncooked chorizo, rather than the dried, ready-to-eat version. If you and your guests have a taste for spice, use 2 tsp (10 mL) of hot smoked paprika instead of the half sweet mixture indicated.
3 tbsp (45 mL) olive oil
9 medium-size garlic cloves
18 medium-size pitted green olives
12 oz (375 g) fresh chorizo sausage (about 3)
1 tsp (5 mL) sweet smoked paprika
1 tsp (5 mL) hot smoked paprika
Chopped parsley to garnish
1 Heat oil in a small saucepan over medium-low.Fry garlic, turning once, until lightly golden on both sides but still firm, about 3 minutes total; remove from oil. When cool enough to handle, cut each clove in half lengthwise. Stuff each olive with a half clove of garlic; set aside.

2 Remove chorizo from casings and turn out onto cutting board; discard casings and finely chop sausage.

3 Working with a tablespoon measure, fill spoon with a slightly heaping amount of sausage. Push olive into sausage; turn out into hands and work sausage around olive to enclose and form into ovals mimicking the shape of the olive. Place on a lightly greased baking sheet. Repeat with remaining meat and olives. (If making ahead, cover with plastic wrap and refrigerate for up to 1 day. Allow to warm to room temperature before proceeding with recipe.)

4 Preheat oven to 400°F (200°C).

5 Combine sweet and hot paprika in a small bowl. Using a fine-meshed sieve, dust olives with paprika. Bake for 10 minutes, or until meat is cooked. Arrange on a serving platter and sprinkle with parsley; serve with toothpicks.
SHARE