Scotch Old Fashioned
OCTOBER 2020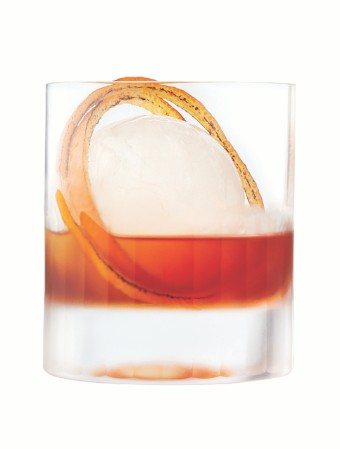 Scotch Old Fashioned
OCTOBER 2020
BY: Stan Reyes
This riff on a classic Old Fashioned, with its fall-inspired notes of maple, ginger and clove, sings in perfect harmony with The Glenlivet Founder's Reserve Scotch Whisky.
¼ oz Ginger & Clove Maple Syrup (see recipe below)
3 or 4 dashes Angostura bitters
2 oz The Glenlivet Founder's Reserve Scotch Whisky
Long strip orange peel, for garnish
Add maple syrup and bitters to an old fashioned or rocks glass, and stir quickly with a bar spoon. Add large ice cube. Gently pour whisky over ice in glass. Slowly stir, gradually increasing speed, until spirit begins to dilute, 20 to 30 seconds. Using a barbecue lighter, carefully warm orange peel, then pinch it to express essential oils over top of cocktail. Rub peel along outside rim of glass, and then drop in.

Ginger & Clove Maple Syrup
½ cup (125 mL) 100% pure maple syrup
¼ cup (60 mL) diced ginger
5 or 6 whole cloves
Warm maple syrup, ginger and cloves in a small pot over medium-low heat just until mixture begins to simmer. Reduce heat to low. Heat, stirring occasionally and ensuring syrup does not simmer too rapidly, until flavours infuse, 12 to 15 minutes. Remove from heat. Let cool completely. Carefully fine-strain into a resealable heatproof container. Syrup will keep well, covered and refrigerated, for up to 2 weeks.
Makes about ½ cup (125 mL)
SHARE