Savoury Halloween Cheddar Cookies
Autumn 2001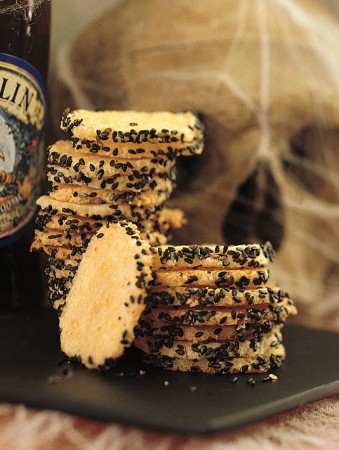 Savoury Halloween Cheddar Cookies
Autumn 2001
BY: Heather Trim
These crispy little cheese bites are perfect with cocktails. The dough can be prepared in advance and frozen for up to one month.
1 cup (250 mL) all-purpose flour
½ tsp (2 mL) baking powder
½ tsp (2 mL) salt
¼ tsp (1 mL) cayenne pepper
½ cup (125 mL) cold butter, cut into small pieces
2 cups (500 mL) grated extra-old orange cheddar cheese
3 to 4 tbsp (45 to 60 mL) ice-cold water
¼ cup (50 mL) poppy seeds or black sesame seeds
1. Place flour, baking powder, salt and cayenne in a food processor fitted with a metal blade. Whirl until combined. Add butter and cheese and pulse until evenly combined and mixture resembles coarse crumbs. Pulsing machine, drizzle in 3 tbsp (45 mL) cold water. Dough should begin to clump together. If not, add remaining tablespoon of water.

2. Gather dough and shape into a log, about 1 ½-inches (4-cm) in diameter. Spread poppy seeds on waxed paper. Roll log in poppy seeds to thoroughly coat. Wrap log in plastic wrap and refrigerate until very firm, at least 4 hours but preferably overnight.

3. Preheat oven to 400°F (200°C). Line a baking sheet with parchment paper or spray lightly with nonstick cooking spray.

4. Thinly slice log into ¼-inch (0.5-cm) slices. Place on prepared baking sheet and bake in preheated oven until a golden-orange colour, about 9 to 12 minutes. Cool completely on wire rack. Cookies will keep well refrigerated in an airtight container for up to 5 days. Bring to room temperature before serving.
Makes approximately 4 dozen cookies
SHARE