Savoury Apple Cheese Walnut Shortcakes
Autumn 2017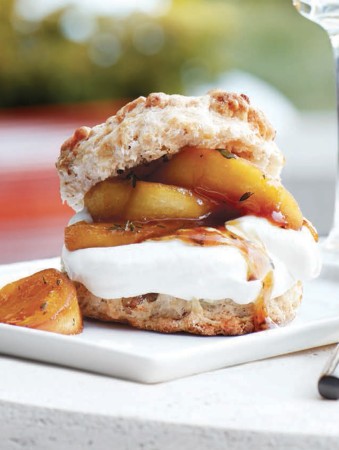 Savoury Apple Cheese Walnut Shortcakes
Autumn 2017
BY: Jennifer MacKenzie
Crispy on the outside and tender inside, zesty cheese biscuits studded with toasted walnuts are mighty tasty on their own. When you add savoury sautéed apples and fluffy cream, you've got a decidedly different twist on shortcake—perfect for the finale to an autumn meal. For an extra touch of decadence, beat ¼ cup (60 mL) mascarpone or softened cream cheese into the whipped cream. Use cooking apples that hold their shape and flavour, such as Crispin (Mutsu), Empire, Northern Spy, or Ida Red. The biscuits are best served the day they're baked.
SHORTCAKES
½ cup (125 mL) shredded washed-rind cheese (such as Gunn's Hill Handeck, aged Niagara Gold) or extra-old cheddar
½ cup (125 mL) walnuts
½ cup (125 mL) milk
1 tbsp (15 mL) cider vinegar
1⅓ cups (330 mL) all-purpose flour
2 tsp (10 mL) granulated sugar
1¼ tsp (6 mL) baking powder
¼ tsp (1 mL) baking soda
½ tsp (2 mL) salt
¼ tsp (1 mL) freshly ground pepper
½ cup (125 mL) cold unsalted butter, cut into cubes
Additional milk

FILLING
3 firm apples, peeled and cut into ¼ inch-thick (5 mm) wedges
¼ cup (60 mL) cider vinegar
2 tbsp (30 mL) unsalted butter
2 tbsp (30 mL) granulated sugar
½ tsp (2 mL) chopped fresh thyme (or a pinch dried thyme)
Salt and freshly ground pepper
½ cup (125 mL) 35% whipping cream
1. Spread shredded cheese on a freezer-safe plate and freeze for 15 minutes.

2. Meanwhile, preheat oven to 425°F (220°C). Line a large baking sheet with parchment paper.

3. Spread walnuts on a pie plate and toast in preheated oven for about 5 minutes or until golden and fragrant. Immediately transfer to a bowl and let cool. Chop into small pieces and transfer to a large bowl.

4. Whisk together milk and vinegar; let stand for 5 minutes.

5. Combine flour, sugar, baking powder, baking soda, salt and pepper in food processor and pulse to combine. Sprinkle butter over flour mixture and pulse until coarse crumbs form (or combine dry ingredients in a bowl and cut in butter using a pastry blender). Add to walnuts in bowl and stir in cold cheese. Drizzle milk mixture overtop. Stir with a fork until a soft dough forms.

6. Gather with floured hands and transfer to a lightly floured surface. Gently knead 2 or 3 times just until dough holds together. Pat into a 1-inch-thick (2.5-cm) circle and use a 3-inch (8-cm) round biscuit cutter to cut 4 biscuits (re-roll scraps if desired to make an extra biscuit). Place on prepared baking sheet, at least 1 inch (2.5 cm) apart. Brush tops lightly with milk.

7. Bake for about 15 minutes or until puffed and golden. Transfer to a rack. Let cool slightly and serve warm or let cool completely.

8. For the filling, combine apples and vinegar in a bowl and toss to coat. Melt butter in a large skillet over medium-high heat. Add sugar and stir until dissolved and starting to brown. Add apples and the liquid, thyme and a pinch each of salt and pepper. Cook, stirring, for about 2 minutes or until starting to soften. Reduce heat to medium-low and cook, gently stirring occasionally, for 10 to 15 minutes or until apples are tender and golden but still holding their shape. Remove from heat and let cool slightly or to room temperature.

9. Just before serving, whip cream with a pinch of salt until soft peaks. Split biscuits and place bottoms on serving plates. Top with whipped cream and apples, then biscuit tops.
SHARE