Sautéed Chicken with Red Wine Sauce
Holiday 2001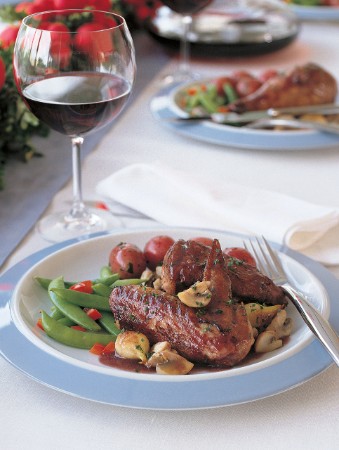 Sautéed Chicken with Red Wine Sauce
Holiday 2001
BY: Lucy Waverman
The reduction of the wine burns off a lot of the alcohol, leaving the essential flavours of the wine behind. After cooking, the sauce is thickened slightly with butter and flour. The breast portions should be cut into four on larger chickens. Use all leg or breast portions if desired but breasts cook in about 10 minutes less time. To make it easier to peel pearl onions, place them in cold water, bring to boil and boil 1 minute. Drain, refresh with cold water and cut off the root end. The skin will slip right off. Serve with parsley, potatoes and a crisp green vegetable such as sugar snaps or green beans.
3 cups (750 mL) red wine
One 5-lb (2.5 kg) chicken, cut in 10 pieces
2 tbsp (25 mL) olive oil
1/4 cup (50 mL) diced bacon
12 pearl onions, blanched and peeled
12 garlic cloves peeled
8 ounces (250 g) button mushrooms, trimmed
1 cup (250 mL) chicken stock
2 tbsp (25 mL) brandy
1/2 tsp (2 mL) dried thyme
1 bay leaf
1-inch (2.5-cm) piece orange peel
1 tbsp (15 mL) butter
1 tbsp (15 mL) flour
Salt and freshly ground pepper


Garnish
3 tbsp (45 mL) chopped parsley
1. Bring wine to boil in pot over high heat until reduced by half, about 15 minutes.

2. Preheat oven to 375°F (190°C). Trim fat from chicken. Heat 1 tbsp (15 mL) oil in skillet on medium heat. Add chicken and fry in batches 5 minutes each side or until golden. Remove from skillet and add legs and thighs to ovenproof casserole. Reserve breasts separately.

3. Drain fat from skillet and wipe out. Add remaining oil to skillet along with bacon and fry for 2 minutes or until it begins to render the fat. Add pearl onions and garlic cloves and fry until the onions begin to turn colour, about 3 minutes. Add mushrooms and sauté until softened. Remove vegetables and reserve. Discard any fat.

4. Add reduced wine, stock and brandy to skillet. Bring to a boil, stir in thyme, bay leaf and orange peel and pour over chicken. Liquid should come halfway up chicken. Cover and bake for 10 minutes, add chicken breasts and vegetables, cover and cook for 25 minutes longer or until chicken juices run clear and vegetables are soft.

5. Remove chicken and vegetables to serving platter, discarding orange peel and bay leaf. Combine butter and flour until incorporated. Place casserole on medium heat and slowly whisk in butter-flour mixture. Bring sauce to the boil, stirring. Simmer 5 minutes to incorporate flavours. Season well and pour over chicken. Reheat when needed in 350°F (180°C) oven for 20 minutes or until heated through. Garnish with lots of parsley.
SHARE