Santa's Surf Shack
Holiday 2020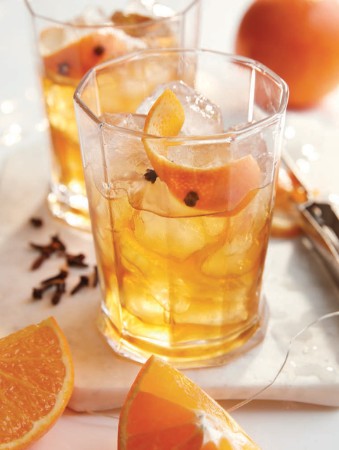 Santa's Surf Shack
Holiday 2020
BY: Christine Sismondo
This cheeky little drink pops with surprising notes that manage to balance perfectly with this gorgeous whisky. If you can't find falernum, it's still a great drink without—but slightly less festive. Falernum can be purchased from cocktail supply shops, such as thecraftybartender.com.
1½ oz Stalk and Barrel Three Barrel Whisky
1/2 oz dry white vermouth
1/4 oz Fernet-Branca (VINTAGES 220145, 500 mL)
1/4 oz falernum syrup
6 drops Pernod (LCBO 6049)
2 orange peels (for garnish)
2 cloves (for garnish)
1. Add 6 ice cubes and all liquid ingredients to a mixing glass and stir for 45 seconds. Strain into a rocks glass with fresh ice cubes. Express the oils from one orange peel and discard. Press cloves into the other orange peel for a garnish.
SHARE