Salty Lime and Lychee Margarita
Spring 2005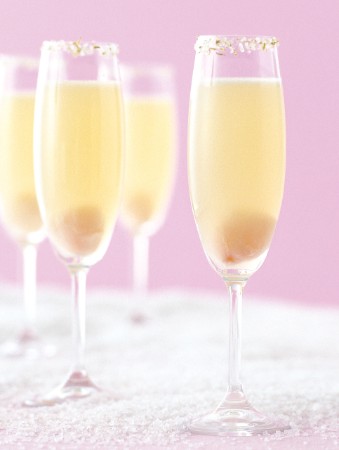 Salty Lime and Lychee Margarita
Spring 2005
BY: Dana Speers
Lychee liqueur recently became available in LCBO stores across the province. It adds a sweetness to the Margarita that is balanced beautifully by the lime salt rimming the glass. You can buy canned lychees at Chinese grocery stores.
1 lime wedge
Lime salt, for rimming glass (recipe follows)
2 oz (60 mL) freshly squeezed lime juice
1¾ oz (55 mL) tequila
½ oz (15 mL) triple sec
½ oz (15 mL) Soho lychee liqueur 

Garnish
1 lychee (canned)

1. Rub the rim of a Champagne glass with the lime wedge. Put some lime salt on a saucer and spread out evenly. Turn the glass upside down and place it on the salt to coat the rim.

2. Fill a cocktail shaker with ice. Add the lime juice, tequila, triple sec and lychee liqueur. Shake mixture and strain into Champagne glass. Add a lychee to the glass. 


Lime Salt
2/3 cup     (150 mL) fine sea salt
Freshly grated zest of 4 limes

1. Preheat oven to 325°F (160°C).

2. Combine sea salt and lime zest in a pie plate. Bake salt for 10 minutes. Cool.

SHARE