Salad of Ontario Buffalo Mozzarella and Roasted Tomatoes
Spring 2011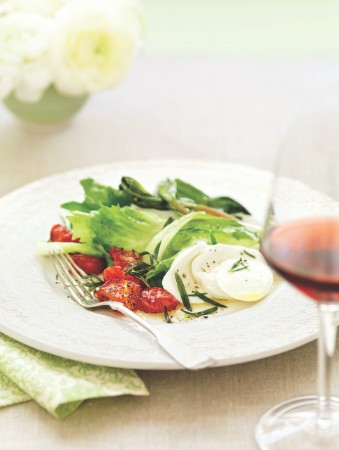 Salad of Ontario Buffalo Mozzarella and Roasted Tomatoes
Spring 2011
BY: Lucy Waverman
This is a composed salad with the elements served around the escarole.
12 cherry tomatoes, halved
2 tbsp (25 mL) olive oil
Salt and freshly ground pepper
2 tbsp (25 mL) fresh rosemary leaves
1/2 head escarole lettuce, washed and torn
2 tbsp (25 mL) extra virgin olive oil
2 tsp (10 mL) lemon juice
1 ball buffalo mozzarella, sliced
8 Pickled Wild Leeks (recipe follows)
1 Preheat oven to 400°F (200°C).

2 Toss tomatoes with 1 tbsp (15 mL) olive oil and season with salt and pepper. Lay, cut-side up, on a baking sheet and roast for 20 minutes or until browned and dried just at the edges. Set aside to cool.

3 Heat remaining 1 tbsp (15 mL) olive oil in a small skillet over medium-high heat. Add rosemary and saute for 1 minute or until crispy. Drain on paper towels. Set aside.

4 Toss escarole with extra virgin olive oil and lemon juice and season with salt and pepper to taste. Divide escarole between 4 plates. Lay a few slices of buffalo mozzarella on the side of the plate along with a small portion of roasted tomatoes and 2 pickled wild leeks. Sprinkle fried rosemary leaves around plates and a little extra virgin olive oil.

Pickled Wild Leeks
If wild leeks are large, blanch them for 1 minute, but otherwise use them raw. If wild leeks are not available, use two thinly sliced red onions cut in half. The pickled leeks in their liquid will be good refrigerated for a month. Use a non-reactive pot (typically stainless steel) for this recipe as other metals will react with the acid (vinegar) and impart a taste to the food. (Occasionally you can buy pickled leeks.)

¾ cup (175 mL) sugar
¾ cup (175 mL) rice wine vinegar
¾ cup (175 mL) water
1 tbsp (15 mL) kosher salt
1 tbsp (15 mL) pickling spice
½ tsp (2 mL) chili flakes
4 bunches wild leeks
1 Combine sugar, rice wine vinegar, water, salt, pickling spice and chili flakes in a nonreactive pot and bring to boil over high heat. Boil for 2 minutes or until salt and sugar dissolve.

2 Pour hot pickling liquid over wild leeks and leave overnight in the refrigerator. Drain before using.



SHARE