Rum Baba with Banana Cream
Holiday 2019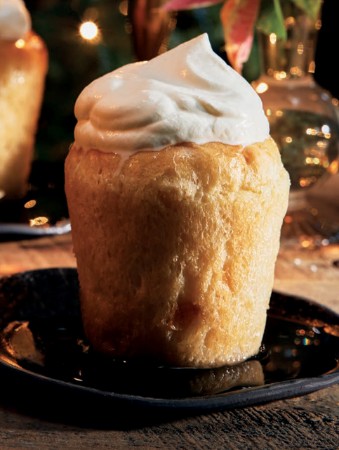 Rum Baba with Banana Cream
Holiday 2019
BY: Christopher St. Onge
Rum Baba is classic French bistro fare—simple, homey and utterly satisfying. The cake is light as air and the perfect thing to soak up the boozy rum syrup. If you're feeding kids, boil the syrup for 5 minutes or so to burn off the alcohol, otherwise remove from heat before adding rum as indicated. Rum Baba is usually baked individually in small metal baking cups known as dariole moulds. If you have these, great! If not, use an 8- or 10-cup (2- or 2.5-L) Bundt pan, preferably not too deeply grooved. If using a Bundt, look for the dough to double in size during the final rise, and bake for 20 to 25 minutes.
SPICED RUM SYRUP
1 cup (250 mL) sugar
1 cup (250 mL) water
3-inch (8-cm) cinnamon stick
1 small star anise
½ vanilla bean
½ cup (125 mL) amber rum
¼ cup (60 mL) roughly chopped yellow raisins
2 tbsp (30 mL) amber rum
⅓ cup (80 mL) lukewarm milk
1 tsp (5 mL) sugar
1 tsp (5 mL) active dry yeast
2 eggs, at room temperature
1 ¼ cups (310 mL) all-purpose flour
¼ tsp (1 mL) salt
5 tbsp (75 mL) unsalted butter, softened
BANANA CREAM
1 cup (250 mL) whipping cream
2 tbsp (30 mL) reserved spiced rum syrup
1 tbsp (15 mL) banana liqueur
1 For the syrup, combine sugar, water, cinnamon stick, star anise and vanilla bean in a medium pot. Bring to a boil over medium heat, cover and let cook for 10 minutes to infuse the syrup. Remove from heat; stir in ½ cup (125 mL) rum. Set aside.
2 Combine raisins and 2 tbsp (30 mL) rum in a small bowl and set aside.
3 In the bowl of a stand mixer fitted with the whisk attachment, combine milk, sugar and yeast. Let stand 10 minutes or until foamy. Add eggs and whisk to combine. With the motor running, add flour, a little at a time, and the salt. Continue whisking while adding the butter, 1 tbsp (15 mL) at a time. Once fully incorporated, fold in raisin-rum mixture. Cover with a dishtowel and place bowl in a warm spot; let rise for 1 hour or until tripled in size.
4 Meanwhile, butter six 4-oz (115-mL) dariole moulds (or Bundt pan as indicated in headnote), being sure to get into the corners. Once dough is raised, stir with a spatula to deflate, and divide evenly between prepared moulds. Once again, cover with a dishtowel and let rise until dough is flush with top of moulds, about 1 hour.
5 Meanwhile, preheat oven to 375°F (190°C).
6 Bake on centre rack for 15 minutes or until a tester comes out clean. Let stand 10 minutes, then remove from moulds to a platter (babas may be made up to a day in advance, covered with cling wrap and held at room temperature).
7 Remove and set aside 2 tbsp (30 mL) spiced rum syrup; pour remaining syrup over still-warm babas. Using a pastry brush, gather collected syrup from platter and brush over top of babas several times. (If choosing to make cakes a day in advance, heat syrup when ready to serve and pour warm syrup over babas to reheat.)
8 For banana cream, whip cream to medium peaks; add reserved syrup and banana liqueur. Whip to stiff peaks and serve with babas.
SHARE