Rosemary Garlic Lamb Chops with Spicy Broccoli
Spring 2006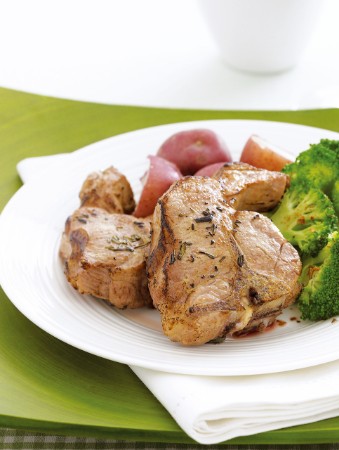 Rosemary Garlic Lamb Chops with Spicy Broccoli
Spring 2006
BY: Emily Richards
Lamb loin or shoulder chops are an easy dinner option and can be purchased fresh or frozen. Keep them in the freezer but be sure to let them thaw in the refrigerator for the day. This is a perfect meal to double when you have a guest for dinner. Spicy Broccoli recipe follows.
2 tbsp (25 mL) red wine vinegar
1 tbsp (15 mL) extra virgin olive oil
1½ tsp (7 mL) chopped fresh rosemary
1 large clove garlic, minced
1 tsp (5 mL) Dijon mustard
Salt and pepper
2 loin or shoulder lamb chops (about 7 oz/ 200 g total)
3 mini new potatoes
1 tbsp (15 mL) butter
1 tbsp (15 mL) chopped fresh parsley
1.  Whisk together vinegar, oil, rosemary, garlic, mustard and a pinch each of salt and pepper in shallow dish. Add lamb chops and turn to coat. Let stand at room temperature for 10 minutes.

2.  Cook potatoes in small pot of boiling salted water for about 8 minutes or until tender. Drain and cut in half.

3.  Melt butter in saucepan and add potatoes, parsley and pinch of salt and pepper and toss to coat. Cover and keep warm.

4.  Heat nonstick skillet or grill pan over medium-high heat.  Remove lamb chops from marinade and sear, turning once for about 10 minutes or until medium-rare.

5.  Serve lamb chops with potatoes and Spicy Broccoli.

Spicy Broccoli
1/3 cup (75 mL) water
1½ cups (375 mL) broccoli florets
1 tbsp (15 mL) extra virgin olive oil
¼ tsp (1 mL) hot pepper flakes
Salt and pepper
1. Bring water to boil in nonstick skillet. Add broccoli.

2. Cover and cook for 3 minutes or until tender-crisp. Drain, if necessary.

3. Add oil to skillet and cook broccoli, hot pepper flakes and pinch each of salt and pepper over medium heat, stirring for 2 minutes or until coated well and golden. Serve with lamb chops.
SHARE