Rosé Wine-Steamed Clams
Early Summer 2015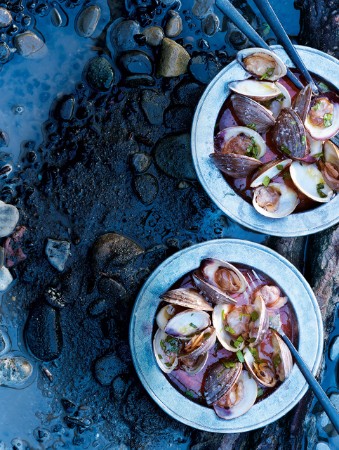 Rosé Wine-Steamed Clams
Early Summer 2015
BY: Victoria Walsh
Simply cooking fresh clams in a generous splash of wine, seasoned with a little butter, salt and fresh herbs, is all you need to do to create this impressive dish.
4 lbs (2 kg) fresh clams such as Little Neck or B.C. Fanny Bay
1½ cups (375 mL) dry rosé wine
¼ cup (60 mL) melted butter
¼ tsp (1 mL) sea salt
4 tsp (20 mL) freshly chopped tarragon or parsley (optional)
1 Scrub clams clean. Soak in cold water for 15 minutes, allowing time for the sand to come out. Discard any open ones that don't close with a hard tap.

2 Pour wine into a large pot. Set over high heat. When boiling, add clams. Cover and cook for 5 to 8 minutes until clams open. Discard any unopened ones. Use a slotted spoon to remove clams to bowls.

3 Drizzle with melted butter, add splashes of cooking liquid (avoiding any sand) and sprinkle with salt then tarragon. Delicious served alongside a crisp green salad! Or topple steamed clams over a creamy pasta.
Makes 4 appetizers or 2 main courses
SHARE