Roots & Goat's Curd Salad
Spring 2018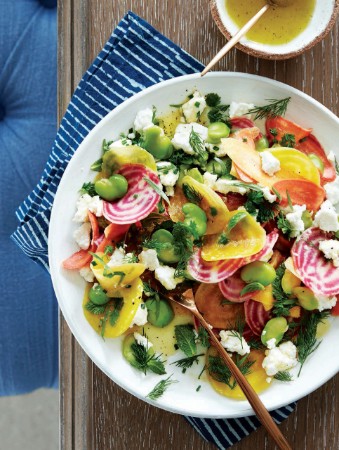 Roots & Goat's Curd Salad
Spring 2018
BY: Christopher St. Onge
It's no secret that colourful vegetables are full of good-for-you vitamins and other such things. Thankfully they taste nothing like medicine, especially when paired with a sweet-tart dressing and very mild, freshly made goat's curd. Yellow or candy cane beets don't stain everything the way the red ones do, and they look especially beautiful with multicoloured carrots. Use a combination of delicate herbs like mint, tarragon, chervil, basil, dill and chives rather than more robust ones.
4 cups (1 L) 3.25% M.F. goat's milk
½ tsp (2 mL) salt
¼ cup (60 mL) white vinegar, 5% acetic acid
⅓ cup (80 mL) extra virgin olive oil
1 tbsp (15 mL) lemon juice
1 tbsp (15 mL) white wine vinegar
2 tsp (10 mL) runny honey
½ tsp (2 mL) finely grated garlic (about ½ a small clove)
1 tsp (5 mL) finely grated lemon zest
Salt and freshly ground black pepper
4 small beets, peeled
4 medium-size carrots, peeled
1 cup (250 mL) cooked and peeled fava beans
1 cup (250 mL) loosely packed torn fresh herbs
1. To make the fresh goat's curd, heat milk to a simmer in a medium pot. Add salt and stir to dissolve. Pour ¼ cup (60 mL) vinegar over, give it a gentle stir, remove from heat and let stand for 5 minutes. Strain through a cheesecloth-lined sieve set over a bowl for 10 minutes; discard liquid. Turn curd out into small bowl and let cool to room temperature (or cover and refrigerate for up to 2 days).

2. Meanwhile, whisk together the oil, lemon juice, vinegar and honey. Add garlic and lemon zest; season to taste with salt and pepper. Set dressing aside.

3. Use a mandoline (or sharp paring knife) to very thinly slice the beets into rounds and the carrots into equally thin bias-cut slices; add both to a platter or shallow bowl. Sprinkle with fava beans. Break apart reserved curd and distribute over vegetables; top with herbs and drizzle dressing over. Gently toss and let stand for 5 minutes before serving.
SHARE