Roasted Sugar Pears with Greens and Roquefort
Autumn 2002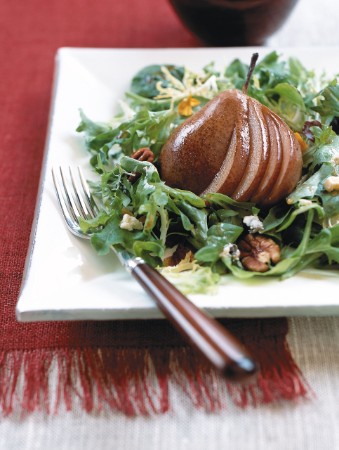 Roasted Sugar Pears with Greens and Roquefort
Autumn 2002
BY: Lucy Waverman
Sugar pears are the small sweet Forelle pears that are available in the fall. They bake wonderfully and their sweetness is the perfect foil for the cheese. The salad should be lightly dressed and piled high on the plate. Use other blue cheese if desired.
2 tbsp (25 mL) granulated sugar
1/2 cup (125 mL) white wine
Freshly ground black pepper
1/4 tsp (1 mL) cinnamon
Butter
1/4 tsp (1 mL) nutmeg
4 sugar pears, unpeeled and cored
6 cups (1.5 L) mixed baby greens
1/2 cup (125 mL) pecan halves

Dressing
1 tbsp (15 mL) sherry vinegar
3 tbsp (45 mL) extra virgin olive oil
Salt to taste
1 cup (250 mL) crumbled Roquefort cheese
1. Preheat oven to 350°F (180°C).
2. Combine sugar, wine, pepper, cinnamon and nutmeg in a bowl. Butter a baking dish that fits pears standing up. Add pears and liquid. Bake for 30 minutes, basting occasionally or until pears are tender. Remove pears from wine mixture, reserving liquid.
3. Pour wine mixture into pot and bring to boil. Add pecans and simmer in liquid until most of liquid is absorbed, about 12 minutes.
4. Remove pecans from liquid with a slotted spoon (reserving any remaining liquid) and cool on an oiled baking sheet or parchment paper.
5. Leaving stem end attached, slice pears into about 5 sections. Place greens on 4 plates and fan pears around. Sprinkle with pecans. Whisk together vinegar and oil, adding any reserved pecan cooking liquid. Season with salt. Drizzle over greens and pears. Sprinkle with Roquefort.
SHARE