Roasted Red Pepper Mayonnaise
Summer 2007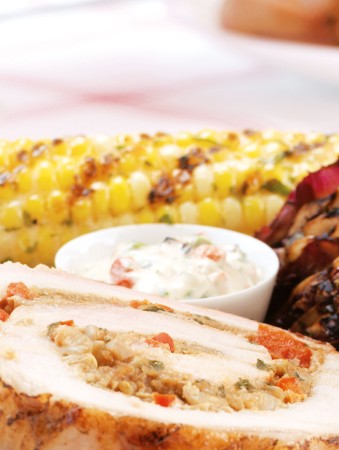 Roasted Red Pepper Mayonnaise
Summer 2007
BY: Emily Richards
The roasted red pepper mayo is delicious with grilled corn, potatoes or other favourite vegetables.
½ cup (125 mL) light mayonnaise
¼ cup (50 mL) finely diced
roasted red bell pepper
2 tbsp (25 mL) finely chopped fresh Italian parsley
1 large clove garlic, minced
¼ tsp (1 mL) fresh ground black pepper
1.  Whisk together mayonnaise, roasted red pepper, parsley, garlic and black pepper in a bowl until combined.

2.  Set aside half of the mayonnaise mixture to serve.

Grilled Corn On The Cob

6 cobs of corn, shucked
1 tbsp (15 mL) butter, melted
1. Brush corn with butter and place on greased grill over medium-high heat and grill, turning occasionally for 8 minutes.

2.  Brush remaining half of mayonnaise mixture over corn, and grill, turning for about 8 minutes or until golden brown and tender-crisp.

3.  Serve with reserved mayonnaise mixture.
SHARE