Roasted Potato and Fennel Salad
Summer 2002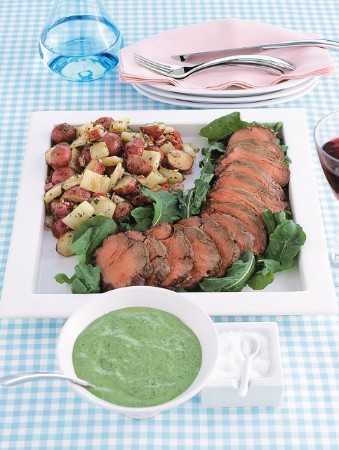 Roasted Potato and Fennel Salad
Summer 2002
BY: Lucy Waverman
Roasting potatoes for a potato salad brings out more flavour and a creamier texture than does boiling them. The fennel gives the potatoes an extra lift.
3 lbs (1.5 kg) mini red potatoes
2 fennel bulbs
1/4 cup (50 mL) olive oil
1 tbsp (15 mL) balsamic vinegar
Salt and freshly ground pepper
1 cup (250 mL) finely chopped red onion
1 cup (250 mL) diced roasted red pepper


Dressing
1/2 cup (125 mL) mayonnaise
2 tbsp (25 mL) horseradish
2 tbsp (25 mL) lemon juice
2 tbsp (25 mL) red wine vinegar
1/4 cup (50 mL) chopped parsley
1. Preheat oven to 400°F (200°C).
2. Cut potatoes in half but do not peel. Cut fennel in half and discard core. Cut into 1-inch (2.5-cm) dice.
3. Combine oil and balsamic vinegar and toss potatoes with half of mixture. Place on a baking sheet. Season with salt and pepper. Bake for 40 to 45 minutes or until soft and golden. Place in bowl.
4. Combine fennel with remaining oil and balsamic mixture and place on second baking sheet. Bake for 25 minutes or until browned and tender. Add to potatoes along with red onion and roasted red pepper.
5. Combine mayonnaise, horseradish, lemon juice and red wine vinegar. Toss vegetables with mayonnaise mixture. Sprinkle with parsley.
SHARE