Roasted Pears With Dulce De Leche
Winter 2011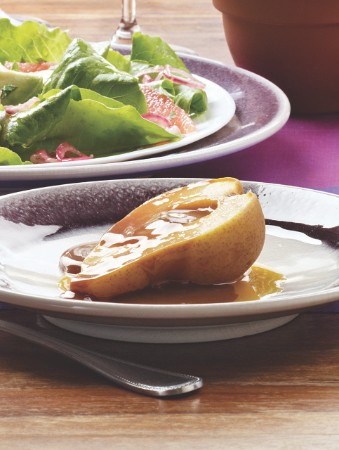 Roasted Pears With Dulce De Leche
Winter 2011
BY: Monda Rosenberg
Here's a modern version of a poached pear dessert that is simplicity itself, but the flavour is stunning. Pears baked in pure orange juice are treated to a store-bought dulce de leche sauce, a thick heavenly butterscotch-tasting sauce made by caramelizing sugar and milk. If baked ahead, bring the pears to room temperature or warm in the oven.
3 ripe but firm pears
3/4 cup (175 mL) orange juice
1/2 to ⅔ cup (125 to 150 mL) purchased dulce de leche sauce
1 Preheat oven to 375°F (190°C).

2 Slice unpeeled pears in half lengthwise and using the point of a paring knife score around the cores, then remove with a small pointed spoon. Pour juice into a shallow-sided baking dish that will snugly hold pears. A 9-inch (23-cm) pie plate works well. Arrange pears cut-side down in the dish. Bake, uncovered, for 15 minutes. Turn pears and spoon pan juice over top and into their centres. Continue baking, basting with juices every 10 minutes, until pears are fork tender and golden-tinged. This will take a total of about 30 more minutes.

3 Remove dish from the oven and baste juices over pears. If juices aren't thick enough to coat fruit, pour into a frying pan and boil over medium heat, swirling pan often, until thickened. Then pour over pears. If making more than 2 or 3 hours ahead, cover the dish and refrigerate up to a day.

4 Dip the tines of a fork into the dulce de leche and drizzle back and forth over 6 dessert plates. You may have to warm the sauce in the microwave. Place a pear cut-side up on each plate. Spoon the orange pan juices over the pears and into their centres. Then drizzle more dulce de leche sauce over each.
SHARE