Roasted Pear and Caramel Trifle
Holiday 2006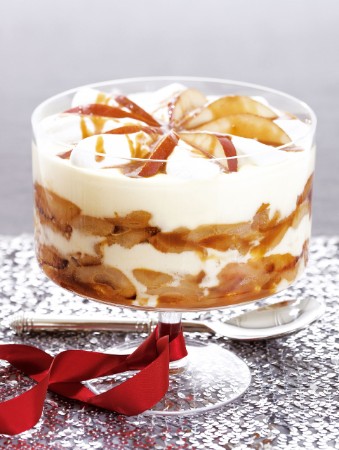 Roasted Pear and Caramel Trifle
Holiday 2006
BY: Marilyn Bentz-Crowley
Soggy packaged custard and jam concoctions of Christmas past are eclipsed by this rich creamy trifle which, like those of yesteryear, is best made a day or 2 ahead. Here roasted pears shrink to a fraction of their freshly cut size, becoming sweet enough to be a sugarplum.
Roasted pears
10 large ripe but firm Bosc pears
2 tbsp (25 mL) butter, melted


Custard
½ cup (125 mL) sugar
½ cup (125 mL) all-purpose flour
1 qt (1 L) 18% cream, divided
4 egg yolks
1 tsp (5 mL) pure vanilla extract


Caramel Sauce
¼ cup (50 mL) water
1 cup (250 mL) granulated sugar
1 tbsp (15 mL) butter
¾ cup (175 mL) whipping cream
½ tsp (2 mL) pure vanilla extract


Assembly
7 oz (200 g) ladyfingers
2 tbsp (25 mL) rum or apple juice
1 cup (250 mL) whipping cream
1 ripe red pear
1. To roast pears, preheat oven to 400ºF (200ºC).

2. Coat a baking sheet with sides with nonstick spray. Peel, core and slice pears into ½-inch (1-cm) slices. Lay in a single layer on sheet; drizzle with melted butter. Bake for 35 to 45 minutes, turning and rearranging slices every 15 minutes as needed, until slices are richly golden. Cool on sheet.

3. Meanwhile, stir sugar with flour. Whisk 1 cup (250 mL) cold cream with egg yolks; then mix in sugar mixture. Heat remaining cream in a saucepan over medium-low heat until hot, but not yet simmering. Slowly whisk half of hot cream into cold cream mixture; continuing to whisk, pour mixture back into saucepan containing remaining hot cream. Stirring almost constantly with a wooden spoon, continue cooking for 10 minutes or until mixture becomes glossy and thickens. Do not boil. Remove from heat; stir in vanilla. Press a buttered piece of waxed paper or piece of plastic wrap directly onto custard surface; cool. Custard sets even more as it cools.

4. To make caramel sauce, measure water into a medium heavy-bottom sauce pan. Add sugar and butter; do not stir! Measure out whipping cream, set near the stove along with vanilla. Place saucepan over medium-high heat and bring to a boil without stirring. Let bubble briskly for 5 to 7 minutes or until the sugar begins to change colour. Swirl pan gently on the unit until the colour becomes deeply golden. Avert your face (as hot steam rapidly rises) and near the side of the pan, pour in whipping cream. Stir until smooth. Slide pan off heat; stir in vanilla. Cool until lukewarm before using or pour into a container; sauce thickens as it cools. (Once cooled, cover and refrigerate for a week or more.)

5. To assemble trifle, choose a large deep bowl, preferably glass. Line bottom with half of the ladyfingers; drizzle with 1 tbsp (15 mL) rum. Evenly top with half of roasted pears and 2 tbsp (25 mL) caramel sauce. Pour over half of custard. Repeat. If making a day or 2 ahead, cover and refrigerate. Refrigerate remaining caramel sauce.

6. To serve, whip cream until soft peaks form when whisk is lifted; spread over top of trifle. Core unpeeled red pear and very thinly slice. Decoratively arrange on top of trifle. Drizzle with some of the reserved caramel sauce.
SHARE