Roasted Halibut with White Wine Sauce & Mussels
Autumn 2003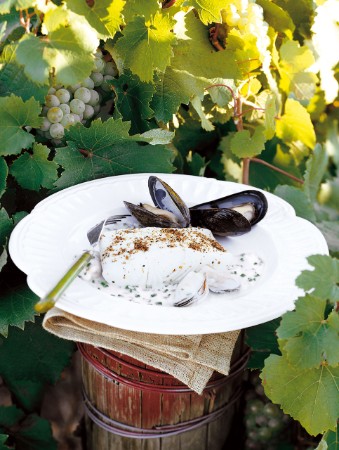 Roasted Halibut with White Wine Sauce & Mussels
Autumn 2003
BY: Lucy Waverman
To grind coriander seeds, place in a peppermill or spice mill and coarsely grind.
Four 6 oz (175 g) halibut fillets, skinned
Salt
1 tsp (5 mL) coarsely ground pepper
1 tsp (5 mL) coarsely ground coriander seeds
3 shallots, finely chopped
1 cup (250 mL) Dry Riesling
20 mussels


Beurre Blanc:
1 tbsp (15 mL) whipping cream
1/2 cup (125 mL) cold butter, cut in 4 pieces
2 tbsp (25 mL) chopped chives
1. Preheat oven to 450ºF (230ºC).

2. Season halibut with salt, pepper and coriander seeds. Place shallots in ovenproof baking dish and top with fish in a single layer. Pour wine around.

3. Place in oven and bake for 5 minutes. Add mussels and bake 5 to 7 minutes longer or until fish is just cooked and mussels are open.

4. Drain liquid from dish into skillet. Remove all but 8 mussels from shell. Reserve shelled mussels for sauce. Cover halibut and remaining mussels with a tea towel to keep warm.

5. Bring drained liquid to boil on high heat and reduce until 2 tbsp (25 mL) remains. Reduce heat to low and stir in cream. Slowly whisk in butter, 2 tbsp (25 mL) at a time. Remove pan from heat if butter seems to be too hot. Sauce should emulsify. Stir in shelled mussels and chives and season with pepper.

6. Place fish on plate along with mussels in shell. Spoon over sauce.
SHARE