Roasted Garlic & Wheat Beer Bread
Winter 2015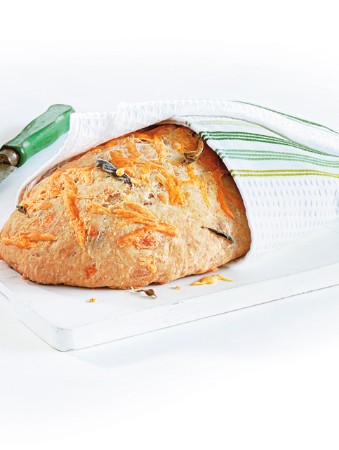 Roasted Garlic & Wheat Beer Bread
Winter 2015
BY: Lucy Waverman
This bread is very easy to make, with no rising time. Perfect with stews and sunny side up eggs. Toasted with a pesto butter is even better.
23/4 cups (675 mL) all-purpose flour
½ cup (125 mL) whole wheat flour
1 tbsp (15 mL) sugar
1½ tsp (7 mL) kosher salt
1 tbsp (15 mL) baking powder
1¼ cups + 2 tbsp (350 mL) wheat beer
1 head roasted garlic, squeezed out of skin
1 tbsp (15 mL) Dijon mustard
1¼ cups (310 mL) grated aged cheddar cheese
1 tbsp (15 mL) butter, melted
8 small sage leaves
1 Preheat oven to 375°F (190°C).

2 Combine flours, sugar, salt and baking powder in a large bowl. Stir in beer, garlic, mustard and 1 cup (250 mL) cheese until mixture forms a soft dough.

3 Gather gently into a ball and transfer to a parchment-lined baking sheet. Shape into an oval and brush with melted butter. Scatter sage leaves over the top and sprinkle with remaining cheese.

4 Bake for 45 to 55 minutes or until light golden and firm to touch. A toothpick inserted in centre should come out clean.

5 Cool on a rack. Keeps at room temperature for 3 days but can be frozen.
SHARE