Roasted Garlic & Saffron Alioli
Summer 2018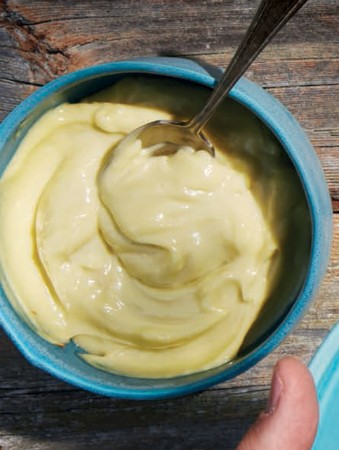 Roasted Garlic & Saffron Alioli
Summer 2018
BY: Christopher St. Onge
This alioli and the Spanish ketchup work beautifully together so don't fear dolloping a spoonful of each on a slice of frittata, your favourite burger, alongside grilled fish or spread on a sandwich.
8 cloves roasted garlic (see TIP)
1 egg yolk
1 tbsp (15 mL) water
1 tbsp (15 mL) lemon juice
Pinch saffron
1 cup (250 mL) grape-seed oil
½ cup (125 mL) grassy extra virgin olive oil
Salt and freshly ground black pepper to taste
1. Work the roasted garlic into a paste with the side of a chef's knife. Add to the bowl of a stand mixer (or large bowl) along with the egg yolk. Beat on low speed with the whisk attachment (or with an electric mixer) until combined.

2. In a separate small bowl, combine the water, lemon juice and saffron; set aside.

3. Turn mixer to high speed and add the grapeseed oil, drop by drop at first, then in a slow drizzle once you've added about a third. Continue at a slightly faster pace until you've added all the grape-seed oil and mixture is thick and pasty. Reduce speed to low and beat in 1 tbsp (15 mL) of the saffron mixture. Increase to high once again and slowly drizzle in olive oil. Whisk in remaining 1 tbsp (15 mL) saffron mixture. Season to taste with salt and pepper; chill (mayonnaise will keep in refrigerator 7 days).

TIP To prepare roasted garlic, cut top off (in order to expose cloves) as many heads as you wish to roast; place in a piece of foil large enough to enclose. Drizzle with 1 tsp (5 mL) olive oil per head, wrap snugly and place in a 400°F (200°C) oven (or covered grill) and cook for 45 minutes or until cloves are very soft.
SHARE