Roast Turkey
Holiday 2009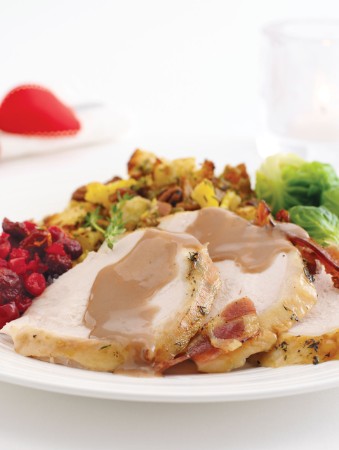 Roast Turkey
Holiday 2009
BY: Julia Aitken
For best flavour and juiciness, buy an air chilled fresh turkey. If you prefer a frozen bird, remember to allow plenty of time for it to thaw in the refrigerator; a 9- to 12-lb (4- to 5.5-kg) turkey will take three to four days.
Turkey
1 turkey, 9 to 12 lbs (4 to 5.5 kg)
1 recipe Orange Pecan Stuffing
1 tbsp (15 mL) olive oil
1 tbsp (15 mL) minced fresh thyme leaves
1 tsp (5 mL) salt
1 tsp (5 mL) freshly ground black pepper
2 cups (500 mL) Turkey Stock
or low-sodium chicken broth
¼ cup (50 mL) orange juice
4 slices bacon

Gravy
3 cups (750 mL) Turkey Stock or low-sodium chicken broth
¼ cup (50 mL) all-purpose flour
1 cup (250 mL) Beaujolais Nouveau or other fruity young red wine
Salt and freshly ground black pepper
1. For turkey, remove neck and any giblets from turkey cavities and use to make stock.

2. Preheat oven to 325°F (160°C).

3. Rinse turkey inside and out with cold running water; dry turkey inside and out with paper towels. Spoon some of the stuffing loosely into body and neck cavities. Tie legs together to contain stuffing in body and secure flap of neck skin with a sharp skewer. Put remaining stuffing in a greased 6-cup (1.5-L) baking dish (use an oval dish if you have one, so that it will fit in the oven next to the turkey roasting pan), cover with a lid or foil then refrigerate.

4. Put turkey, breast-side down, on a greased V-rack in a shallow roasting pan. Rub upper side of turkey with oil; sprinkle evenly with half of the thyme, salt and pepper. Pour 1 cup (250 mL) stock into roasting pan. Roast turkey for 2 hours, basting 3 or 4 times with juices in the pan and adding more stock about ½ cup (125 mL) at a time if pan appears too dry.

5. Wearing clean oven mitts and shielding them with foil, turn turkey breast-side up. Drizzle orange juice over turkey; sprinkle with remaining thyme, salt and pepper. Lay bacon slices across turkey's breast and legs. Roast for a further 1 to 1½ hours, basting occasionally with cooking juices in the roasting pan. Turkey is done when a meat thermometer inserted in thickest part of thigh registers 175°F (80°C) and the juices that run out are no longer pink. Half an hour before turkey is done, put casserole containing stuffing in oven alongside turkey.

6. Remove turkey from oven, leaving stuffing in oven to bake for a further 20 minutes. Meanwhile, transfer turkey to a warm platter; tent loosely with foil and let stand in a warm place for about 20 minutes before carving.

7. For gravy, remove rack from roasting pan; pour pan drippings into a 4-cup (1-L) glass measuring cup and let stand for a few minutes to let the fat rise to the surface. Skim off all the fat from drippings into a small bowl. Spoon 3 tbsp (45 mL) fat into roasting pan, discarding the remainder. Add enough stock to drippings to measure 3 cups (750 mL).

8. Add flour to fat in roasting pan; cook over medium heat, stirring constantly, for 2 to 3 minutes. Gradually whisk in wine; cook for 1 minute until bubbly and smooth. Gradually whisk in stock mixture; cook, whisking constantly, until gravy starts to bubble. Reduce heat to medium-low; cook, stirring often, for 5 minutes, until smooth and slightly thickened. Season with salt and pepper to taste; strain into a serving pitcher and keep warm.

9. Carve turkey, spooning out stuffing into a separate dish; arrange turkey on a warm serving platter. Serve with the gravy and Cranberry Salsa.

Orange Pecan Stuffing

You can substitute walnuts, almonds or even pine nuts for the pecans in this easy stuffing.

6 slices bacon, chopped
1 large onion, finely chopped
2 stalks celery, finely chopped
4 cloves garlic, minced
2 oranges
8 cups (2 L) cubed day-old white bread (about 12 slices, crusts removed)
½ cup (125 mL) coarsely chopped toasted pecans
½ cup (125 mL) chopped fresh parsley
1 egg, beaten
2 tbsp (25 mL) minced fresh thyme
½ tsp (2 mL) freshly ground black pepper
¼ tsp (1 mL) salt
1.  In a large nonstick skillet, cook bacon over medium-high heat for 5 to 7 minutes, until crisp. With a slotted spoon, remove bacon to a large bowl, reserving fat in skillet.

2.  Add onion and celery to skillet; cook, stirring, for 8 to 10 minutes, until onion and celery are soft and just starting to brown. Add
garlic; cook, stirring, for 30 seconds or until fragrant. Scrape onion mixture into bowl with bacon.

3.  Finely grate zest from 1 orange and add to bowl. Cut a slice from one end of 1 orange; cut away rind and all white pith from orange. Holding orange over a small bowl, cut between membranes to release orange segments; squeeze juice from remaining membrane. (Reserve juice for Roast Turkey recipe, if desired.) Repeat with other orange. With your fingers, break orange segments into small pieces. Add orange segments and their juice to bacon mixture, along with bread cubes, pecans, parsley, egg, thyme, pepper and salt; stir well. Let cool completely before stuffing turkey.
Makes about 10 cups (2.5 L)

Turkey Stock

If turkey has no giblets, substitute ½ lb (250 g) chicken wings.

Neck and giblets from turkey
6 cups (1.5 L) cold water
1 onion, coarsely chopped
1 carrot, coarsely chopped
1 bay leaf
1 sprig fresh thyme


1.  Combine all the ingredients in a medium saucepan. Bring to a simmer over medium-high heat. Reduce heat to low; simmer, partially covered, for 1 hour. Strain through a fine sieve.


Makes about 5 cups (1.25 L)

Cranberry Salsa

If using frozen cranberries, thaw them first then spread them out on paper towels and pat dry.

2 cups (500 mL) fresh or frozen cranberries
⅔ cup (150 mL) dried cranberries
¼ cup (50 mL) finely chopped red onion
2 tbsp (25 mL) packed brown sugar
1 orange

1. In a food processor, pulse fresh or thawed cranberries once or twice until coarsely chopped; tip into a 3-cup (750-mL) serving bowl. Stir in dried cranberries, red onion and sugar.

2.  Finely grate zest and squeeze juice from orange; stir zest and juice into cranberry mixture. Let salsa stand at room temperature for 30 minutes before serving.
Makes about 2 cups (500 mL)
SHARE