Roast Goose with Perry Sauce
Holiday 2020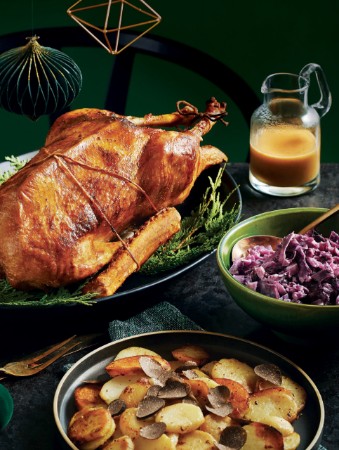 Roast Goose with Perry Sauce
Holiday 2020
BY: Christopher St. Onge
Just a few ingredients here result in a spectacular roast. The process of piercing the skin and inserting garlic slices is time-consuming but easy—it helps turn the skin shatteringly crisp and flavours the bird. The harvested fat from the initial high heat roast should be reserved for the Pommes Sarladaises (recipe follows). Perry is the traditional name for dry sparkling cider made from pears instead of apples.
1 goose, 8 to 10 lbs (3.63 to 4.54 kg)
3 cloves garlic, thinly sliced
1½ tsp (7 mL) salt, plus more to taste
1/2 tsp (2 mL) freshly ground black pepper, plus more to taste
1 cup (250 mL) water, plus more as necessary
1 tbsp (15 mL) flour
1 cup (250 mL) chicken stock
1 cup (250 mL) dry pear cider
1. Remove the giblets from the bird, if included. Discard the liver (or save for another use); reserve remaining parts. Thoroughly dry the bird inside and out.

2. Using a pair of kitchen shears, remove excess skin and fat from around cavities leaving a slight overhang to ensure the meat is covered. Create about 26 small slits in the skin covering the breasts, as well as the top and sides of the legs where the skin is thickest. Do this by piercing with a sharp paring knife parallel to the meat doing your best not to pierce the underlying flesh. Slip a slice of garlic into each slit.

3. Combine 1½  tsp (7 mL) salt and 1/2 tsp (2 mL) pepper in a small bowl. Rub roughly one-third in the cavity and two-thirds over the skin. Arrange bird on a rack set in a large deep roasting pan; tuck wingtips under. Tie legs together with kitchen twine. Let stand while preheating the oven to 500°F (260°C).

4. Roast for 25 minutes. Remove pan from oven. Spoon rendered fat from the bottom of the pan into a small heatproof bowl and reserve for making Pommes Sarladaises.

5. Reduce heat to 350°F (180°C).

6. Tuck giblets under goose and pour 1 cup (250 mL) water into the pan. Return roast to oven and continue to cook for 30 minutes per lb (455 g), basting with drippings every 20‑minutes or so (refresh the water in 1/2-cup (125-mL) measures at a time if drippings begin to smoke) or until a thermometer inserted into the thickest part of thigh registers 165°F (74°C).

7. Remove roast to a board; let stand 30 minutes.

8. Meanwhile, make the sauce. Remove giblets and drain all but 2 tbsp (30 mL) fat from the pan (water should have all evaporated by now—if not, cook it off over medium heat on the stovetop before removing fat) into a heatproof bowl (see TIP).

9. Set over medium heat, sprinkle with flour and combine. Whisking constantly, add the stock a little at a time, then the cider all at once, ensuring there are no lumps. Let boil 5 minutes to thicken slightly; season to taste with salt and pepper.

10. Carve the bird and serve with the sauce, the Creamy Braised Cabbage and the Pommes Sarladaises.
TIP Let the flavourful fat cool slightly to avoid burning yourself, then pour through a fine-mesh sieve lined with cheesecloth set over a‑bowl. Portion into 1 cup (250 mL) containers and freeze until ready to use. Once thawed, fat will keep in the fridge for 30 days. Use to make roasted potatoes or parsnips, savoury pastry crust in place of lard, or even spread on toast that's been rubbed with a clove of garlic.


POMMES SARLADAISES

I have a hard time imagining a more delicious potato dish than this French classic. Simply cooked in butter and goose fat, something you'll have plenty of as a result of cooking the goose, it's garnished with a shaved black truffle. It's best to prepare the potatoes while the goose is resting and to garnish with truffle just before serving. For purchasing tips as well as thriftier, more widely available options to the black truffle, see TIP below.

3 tbsp (45 mL) goose fat
2 tbsp (30 mL) butter
2 lbs (905 g) small Yukon gold potatoes, peeled and cut into 1/4-inch (5-mm) slices
Salt and freshly ground black pepper
1 small black Périgord truffle, about 1/3 oz (10 g)
1. Melt the goose fat and butter over medium-high heat in a large nonstick skillet. Once fat is foaming, add potatoes. Season with salt and pepper, cover and cook for 16 to 18 minutes until potatoes are tender and golden, stirring every 4 minutes or so.

2. Turn out into a serving bowl and shave or finely grate truffle (using a mandoline, truffle slicer or microplane) overtop. Serve immediately.
TIP Black Périgord truffles are at their best during the winter months but aren't widely available. You'll need to visit a high-end grocer in hopes of scoring one. If you do find one, it's important that it is fragrant, and it's totally acceptable to ask for a sniff. If it's devoid of aroma, you'll likely waste your money by purchasing. There are other options to the truffle though. More widely available truffle oil will do in a pinch, but seek out one with visible bits of truffle in the oil—this increases the chances that the oil hasn't been artificially flavoured. Another option, truffle butter, is sold in small jars and is just what it sounds like, butter flavoured with bits of truffle. Add a few drops of the oil or 2 tsp (10 mL) of the butter just before serving the potatoes.
SHARE