Roast Cornish Hens with Pomegranate Glaze
Holiday 2007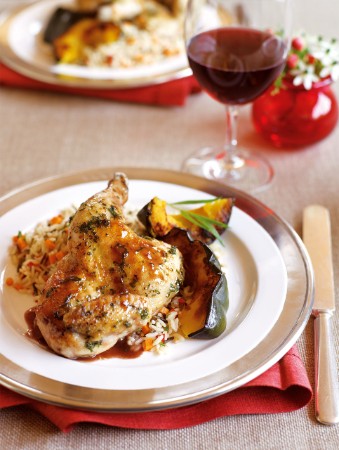 Roast Cornish Hens with Pomegranate Glaze
Holiday 2007
BY: Lucy Waverman
If fresh hens are available, they are juicier and have a better texture than frozen ones. Four small hens will feed 4 people; larger ones may be cut in half, serving half per person. However, make an extra in case people want seconds. Use low-sodium or homemade chicken broth in the sauce, for the best taste.
Herb Butter
¼ cup (50 mL) butter, softened
2 tbsp (25 mL) chopped parsley
2 tbsp (25 mL) chopped fresh chervil or tarragon
1 tsp (5 mL) grated lemon rind
1 tbsp (15 mL) olive oil
Salt and freshly ground pepper

Glaze
2 tbsp (25 mL) chopped shallots
½ cup (125 mL) red wine
½ cup (125 mL) pomegranate juice
2 cups (500 mL) chicken broth
3 tbsp (45 mL) chilled unsalted butter, cut in squares
¼ tsp (1 mL) truffle oil or more to taste
1. Remove backbones from hens by cutting along either side with kitchen shears. Take a knife and cut through the small piece of cartilage just above the breastbone. Bend the hen backward to expose breastbone, and gently remove. Remove wing tips and first joint. Reserve bones for stock or discard (or have the butcher do it).

2. Preheat oven to 400°F (200°C).

3. Beat together butter, parsley, chervil and lemon rind and reserve.

4. Heat olive oil in a skillet over medium-high heat. Season hens with salt and pepper and place, 1 at a time, skin-side down in skillet. Cook for 3 minutes or until golden, then turn over and cook another minute. Remove hens to rack over a roasting pan, skin-side up and reserve skillet for making glaze. Brush hens with seasoned butter.

5. Bake hens for 35 to 40 minutes or until juices are clear.

6. Remove fat from skillet while hens are roasting and wipe with paper towel. Add shallots, red wine and pomegranate juice over high heat. Bring to boil and reduce until syrupy, about 3 to 5 minutes. Add broth and continue to cook until reduced by half, about 5 to 7 minutes. Beat in butter. If sauce is too thin boil until slightly thickened. Season with salt and pepper. Stir in truffle oil to taste. Re-warm when needed.

7. Cut hens in half and coat with a little glaze. Drizzle the plate with any remaining glaze.
SHARE