Risotto Cacio e Pepe with Mushrooms & Arugula
Spring 2019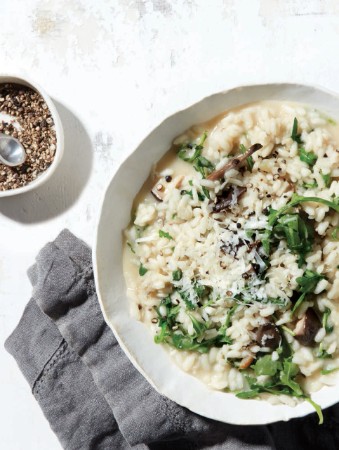 Risotto Cacio e Pepe with Mushrooms & Arugula
Spring 2019
It seems a natural fit to bring together the creaminess of risotto with the flavour profile of cacio e pepe, a match made in heaven. The starch released by the risotto rice enhances the creaminess of this dish. The toasted peppercorns and fresh arugula balance the dish with their peppery fresh bite. 
1 tbsp (15 mL) black peppercorns, toasted
1 lb (455 g) mixed fresh mushrooms such as cremini, enoki, king, oyster and shiitake
Kosher salt
2 tbsp (30 mL) olive oil
1 tsp (5 mL) chopped garlic
¼ cup (60 mL) chopped shallots
1½ cups (375 mL) risotto rice
½ cup (125 mL) white wine
6 cups (1.5 L) warm chicken stock, divided
¼ cup (60 mL) finely grated
Parmigiano-Reggiano
¼ cup (60 mL) grated pecorino
3 cups (750 mL) arugula
1 Heat a medium saucepan over high heat. Add peppercorns. Toast them, swirling the pan occasionally until the peppercorns begin to wiggle and pop, about 1 minute. Remove from heat. Let cool. Crush the peppercorns to a coarse texture using a mortar and pestle or the back of a knife. Reserve.
2 Chop mushrooms into ½-inch (1-cm) pieces. If using shiitake, discard the stem. Heat a large, wide sauté pan over high heat. Add mushrooms and cook in a dry pan until all the moisture has evaporated. Remove from heat and sprinkle with salt. Transfer to a plate and reserve. Wipe pan clean.
3 Return pan to stove over medium heat. Add oil. Add garlic and shallots and cook until softened, about 1 minute. Add rice and stir until evenly coated with oil. Add wine and cook until the wine has evaporated.
4 Add ½ cup (125 mL) warm chicken stock to the rice and stir constantly until it has been absorbed. Repeat, adding liquid by the ½šcup (125šmL) and stirring each time until absorbed, until rice is tender and al dente, about 20 minutes. Remove from heat. Stir in cheeses then mushrooms, arugula and all but 1 tsp (5 mL) reserved pepper. Divide between plates and top with more cheese and remaining pepper 
SHARE