Red Wine Sauce
Holiday 2005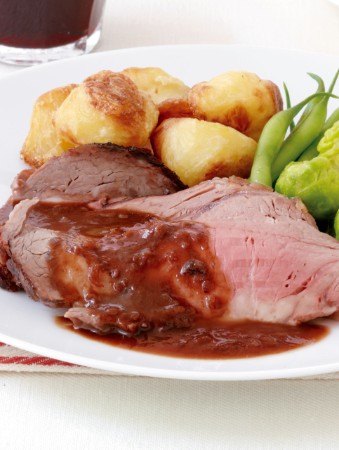 Red Wine Sauce
Holiday 2005
BY: Lucy Waverman
This sauce is excellent with steaks and chops.
¼ cup (50 mL) chopped shallots
½ cup (125 mL) red wine
2 cups (500 mL) beef stock (recipe follows)
1 tsp (5 mL) tomato paste
2 tbsp (25 mL) unsalted butter, cut in pieces
Salt and freshly ground pepper
1. Combine shallots and red wine in a skillet or wide pot over medium-high heat. Bring to boil and boil for 2 to 3 minutes or until reduced to 2 tbsp (25 mL). Add stock and tomato paste and reduce until sauce thickens slightly, about 8 minutes.

2. Reduce heat to low and whisk in butter several pieces at a time. Sauce will thicken. Season with salt and pepper if needed.


Makes 2/3 cup (150 mL) sauce

To Make Variations of Red Wine Sauce

Madeira Sauce
Add 2 tbsp (25 mL) port to the sauce before adding butter.

Port Sauce
Add 2 tbsp (25 mL) port to the sauce before adding butter.

Peppercorn Sauce
Add 1 tbsp (15 mL) cracked peppercorns when stock is added. Omit butter and finish with ¼ cup (50 mL) whipping cream.
Beef Stock
8 lbs (3.5 kg) beef bones and veal knuckle
4 carrots cut in chunks
2 onions, unpeeled, quartered
2 celery stalks, without leaves, cut in thirds
1 tbsp (15 mL) tomato paste
20 cups (5 L) cold water
1 bay leaf
1 sprig fresh thyme or ½ tsp (2 mL) dried thyme
2 fresh parsley stalks
6 peppercorns
1. Preheat oven to 450ºF (230ºC).

2. Roast beef bones and veal knuckle in a large roasting pan in the oven for 30 minutes. Add carrots, onions and celery, and roast for another 30 minutes.

3. Place the bones and vegetables in a large stockpot and toss with tomato paste. Pour out the fat and add 1 cup (250 mL) water to roasting pan. Deglaze the pan on high heat by scraping up any brown bits. Add to the stockpot. Pour in remaining water, adding more cold water if necessary to cover the bones by 2-inches (5-cm).

4. Bring the stock to a boil on high heat. With a slotted spoon, skim grey scum off the top and discard.

5. Add the bay leaf, thyme, parsley and peppercorns. Turn the heat to low and slowly simmer, uncovered, for about 5 hours or until the stock is reduced by half.

6. Cool the stock. Strain into a large bowl, cover and refrigerate.
Makes about 6 cups (1.5 L)
SHARE