Pumpkin and Apple Soup with Roasted Black Walnuts
Autumn 2003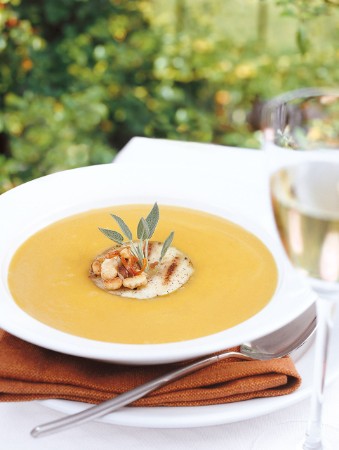 Pumpkin and Apple Soup with Roasted Black Walnuts
Autumn 2003
BY: Alain Levesque, Strewn Winery
If black walnuts are not available, use regular ones. You can also substitute Granny Smith apples, if Spys are not available.
¼ cup (50 mL) butter
3 cups (750 mL) chopped onion
6 cups (1.5 L) chopped pumpkin or butternut squash
2 cups (500 mL) peeled and chopped Spy apples
1 tsp (5 mL) brown sugar
Pinch ground cinnamon
Pinch ground allspice
Tiny pinch cayenne
1 tsp (5 mL) salt
5 cups (1.25 L) water or vegetable stock
Salt and freshly ground pepper

Garnish
2 tbsp (25 mL) roasted black walnuts
Fresh sage leaves
1. In a large pot, melt the butter over medium heat. Add the onion and cook until softened, about 3 minutes. Add the pumpkin and apples and cook until softened, another 3 minutes. Add the brown sugar and spices, then pour over the water or stock and simmer for 30 minutes.

2. Remove from heat, blend until smooth with a hand blender or in a food processor. Season to taste with salt and pepper.

3. To garnish, grill or pan sear some apple slices and add roasted black walnuts (oven roasted in a dry pan at 350°F (180°C) for 5 to 6 minutes) and a sprig of sage.
SHARE