Provolone Prosciutto Packets
Early Summer 2009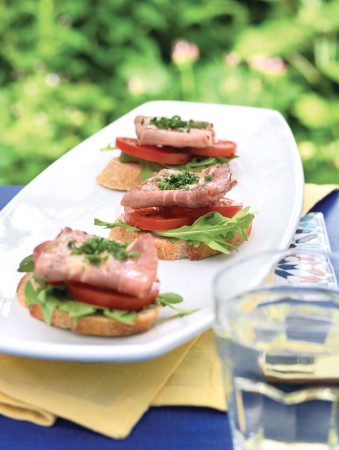 Provolone Prosciutto Packets
Early Summer 2009
BY: Marilyn Bentz-Crowley
These neat little packets are quick to assemble and need less than 2 minutes on the barbecue. Prosciutto, sliced paper thin, sticks to itself when folded. Purchase largish centre-cut slices, about 8 x 3 1⁄2-inches (20 x 9-cm). Use your favourite fresh herbs.
1 pkg (about 300 g) sliced prosciutto, about 20 slices
10 slices mild provolone, quartered
3⁄4 cup (175 mL) chopped fresh herb medley such as basil, oregano, thyme, rosemary or chives
4 to 5 large plum tomatoes, thinly sliced
1 to 2 fresh baguettes, preferably whole-grain
Handful or two of baby arugula or spinach
1 garlic clove, flattened
1⁄4 cup (50 mL) olive oil
1. Lay a single slice of prosciutto on work surface. Lay 2 provolone quarters on top of each other in middle. Top with a pinch of herbs. Lift one end of prosciutto up over cheese, about a third of prosciutto length. Press to seal prosciutto at sides of cheese; then lift up sides over cheese. Finally lift opposite end of prosciutto over cheese; folding in edges, form a packet. Firmly pat and set aside on plate lined with the papers that originally separated prosciutto slices. Repeat, using more papers as needed to keep layers apart. Cover with plastic wrap and refrigerate for up to half a day.

2. When ready to serve, very thinly slice tomatoes. Diagonally cut baguettes into 3⁄4-inch-thick (2-cm) slices. Lay pieces of arugula on baguette slices set out on a tray; top with a couple of tomato slices. Add crushed garlic clove to olive oil.

3. Preheat barbecue until very hot. Brush packets lightly with garlicky oil. Use tongs to place packets a few at a time folded-side down on hottest part of grill for about 60 seconds. Turn and grill for 30 seconds on second side or until prosciutto lightly browns and cheese begins to melt. Place each packet on layered baguette slices; garnish with another pinch of herbs. Serve immediately.
SHARE