Pork & Veal Terrine with Cherries & Pistachios
Early Summer 2014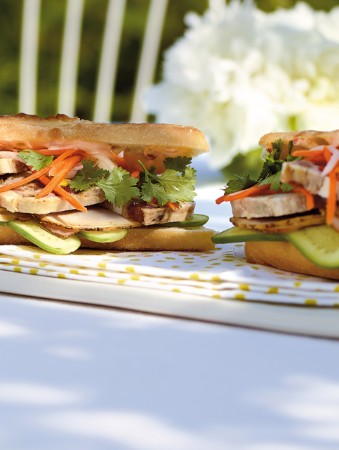 Pork & Veal Terrine with Cherries & Pistachios
Early Summer 2014
BY: Marilyn Bentz-Crowley
This terrine is deliciously traditional. A favourite use of mine is to make it into Vietnamese Banh Mi sandwiches as shown (recipe follows). Or serve small pieces on top of a crostini dabbed with cherry jam that has been stirred with hot sauce. If available, top with
half a fresh cherry garnished with a few grains of coarse salt.
1 lb (500 g) lower-salt bacon (not thickly sliced variety)
1½ tsp (7 mL) olive oil
½ cup (125 mL) finely chopped onion
1 large garlic clove, minced
1 tbsp (15 mL) chopped fresh thyme leaves
¼ cup (60 mL) chopped fresh parsley
12 oz (375 g) lean ground pork
12 oz (375 g) lean ground veal
1 egg
½ cup (125 mL) fresh bread crumbs
¾ tsp (4 mL) salt
½ tsp (2 mL) freshly ground black pepper
½ cup (125 mL) shelled pistachio nuts
½ cup (125 mL) sweetened and dried sour cherries or cranberries
1 skinless boneless chicken breast, about 5 oz (150 g)
1 Preheat the oven to 350°F (180°C).
2 Line a 9 x 5-inch (2-L) loaf pan with aluminum foil, letting ends generously hang over sides. Lightly stretch each slice of bacon lengthwise. Crosswise, line loaf pan with 8 slices, slightly overlapping. Then line pan at each end with 3 to 4 slices that touch pan bottom by only a couple of inches (5 cm) and overhang short edges by quite a bit (as they will be brought up over filled pan).

3 Heat oil in a small frying pan over medium-low heat. Sauté onion and garlic for 3 to 4 minutes until softened; remove from heat, stir in thyme. Cool. Stir in parsley, then combine with pork, veal, egg, bread crumbs, salt and pepper in a bowl; mix well, preferably using your hands. Rub pistachios in a tea towel to remove any loose skin; discard skins. Then mix nuts into meat mixture along with cherries.

4 Remove tenderloin from chicken; cut in half lengthwise. Cut remaining breast into 6 to 8 lengthwise strips.

5 Spread about a third of meat mixture evenly in pan. Slightly in from long sides of pan, arrange 3 or 4 chicken strips evenly over top; cobble together short strips as needed to stretch almost the whole length. Gently push down into bottom layer until half submerged. Top with another third of meat mixture; arrange and press in remaining chicken strips. Lastly spread remaining meat mixture over top.

6 First bring up stubby bacon ends from long sides over top; then cover with long pieces that were overhanging short ends. Cover with foil; place in a deep pan. Insert meat thermometer in centre if available. Fill pan with enough boiling water to come about halfway up loaf pan sides.

7 Bake for 2 hours or until temperature on meat thermometer reads 160°F (70°C), or use an instant-read thermometer. When cooked, top of terrine feels firm; juices are pink tinted from the bacon, but largely clear.

8 Remove loaf pan from water, leaving terrine wrapped; cool terrine in pan on a rack for 30 minutes. Place loaf pan on a tray; top with cardboard cut to fit. Weigh down terrine using cans such as soup or beans. Refrigerate overnight.

9 Use foil to help lift loaf from pan. Peel off foil; gently scrape off excess rendered fat and gelled juices. Cut into slices. Terrine keeps well for several days. Or wrap well and freeze for up to a month.

BANH MI SANDWICHES

Toss 1 cup (250 mL) each of julienned carrot and daikon radish with 2 tbsp (30 mL) seasoned rice wine vinegar. When ready to use, drain and toss with minced hot red or green pepper to taste. Lengthwise, cut open a fresh baguette like a hot dog bun, leaving one side attached. If you like, pull out some of the soft bread inside to accommodate the generous fillings. Slather the bread with ½ cup (125 mL) mayonnaise mixed with 1 to 3 tsp (5 to 15 mL) sambal oelek or Sriracha and a few drops of dark sesame oil. Line bottom side of bread with very thin bias-cut slices of English cucumber, about ½ medium. Top with 6 oz (175 g) cold cuts such as mortadella or roasted pork loin, numerous thin slices of terrine, pickled vegetables and a generous amount of fresh coriander sprigs. Stab in several places with wooden skewers to hold sandwich fillings firmly. Cut crosswise into lengths to form 4 individual sandwiches.
SHARE