Pork Rillettes with Icewine Gelée
Holiday 2015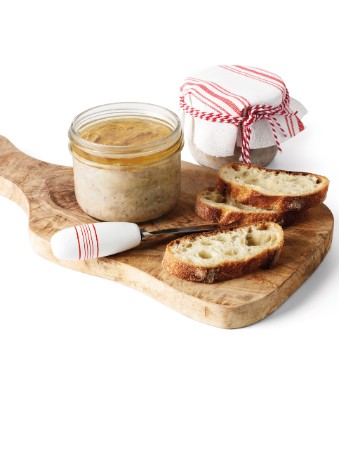 Pork Rillettes with Icewine Gelée
Holiday 2015
BY: Eric Vellend
A vibrant icewine jelly is like a built-in accoutrement for rustic rillettes. Its intense fruitiness and sparkle of acidity act as a foil to the rich pork spread. Not only can you make it days ahead, the flavour improves noticeably after a day or two in the fridge. Since this recipe makes a generous amount, you can pack it into wide-mouth Mason jars and gift it to charcuterie-loving friends.
RILLETTES
Cheesecloth
3 bay leaves
3 whole cloves
1 whole star anise
3 sprigs thyme, cut into
1½ inch (4 cm) lengths
5 cloves garlic, unpeeled
1 lb (500 g) skinless pork belly,cut into 1 inch (2.5 cm) chunks
1¼ lbs (625 g) boneless skinless pork butt, cut into 1 inch (2.5 cm) chunks
2 tsp (10 mL) fine sea salt
1½ cups (375 mL) water
1 cup (250 mL) dry white wine
½ tsp (2 mL) freshly ground black pepper

ICEWINE GELÉE
2 tbsp (30 mL) water
2 tbsp (30 mL) plus ½ cup (125 mL) icewine
1 tsp (5 mL) powdered gelatine
2 tsp (10 mL) granulated sugar (only if using Red Icewine)
Sliced baguette (fresh or toasted), for serving


1. For the rillettes, cut an 8-inch (20-cm) square of double-layer cheesecloth. Rinse and squeeze dry. Place bay leaves, cloves, star anise, thyme and garlic in centre. Gather ends and tie bundle with kitchen string. Trim excess string and cheesecloth, and set aside.

2. In a large heavy pot, combine pork, salt, water, wine and spice bag. Bring to a boil over medium-high heat. Tilt pot to skim and discard foam. Add pepper, cover, and reduce heat to low. Simmer gently, stirring occasionally, until pork is very tender, about 2½ hours.

3. Uncover pot and raise heat to medium. Cook, stirring occasionally, until the only liquid remaining in the pot is rendered fat, 35 to 40 minutes. (Remove and discard spice bag after 20 minutes. Watch closely near the end, as you don't want the meat to brown.) Remove from heat. Cool 1 hour.

4. Using a potato masher, finely shred meat in pot. Switch to a silicone spatula, and vigorously fold the mixture until evenly blended. Divide mixture evenly among four 8-oz (250 mL) ramekins or wide-mouth glass jars. Pack down with a spoon to remove air pockets and level out evenly. Cover tightly with plastic wrap and refrigerate overnight.

5. To make gelée, combine water and 2 tbsp (30 mL) icewine in a small bowl. Sprinkle gelatine over mixture. Let stand 5 minutes. In small saucepan, heat remaining ½ cup (125 mL) icewine with sugar, if using, over medium heat. Stir until hot. Whisk icewine into bowl until gelatine is dissolved. Cool until barely warm. Transfer to a measuring pitcher.

6. Remove ramekins from fridge. Place on a level roasting pan. Slowly pour icewine gelée over rillettes, dividing evenly. Place pan in fridge. Once gelée is firmly set, wrap each ramekin tightly with plastic wrap or cover jars with lids until ready to serve. (Rillettes will keep in fridge for up to 1 week.)

7. Remove rillettes from fridge 1 hour before serving. Serve with sliced fresh or toasted baguette.


Makes 4 8-oz (or medium) ramekins; each ramekin serves 4
SHARE