Pork in Red Wine
Spring 2005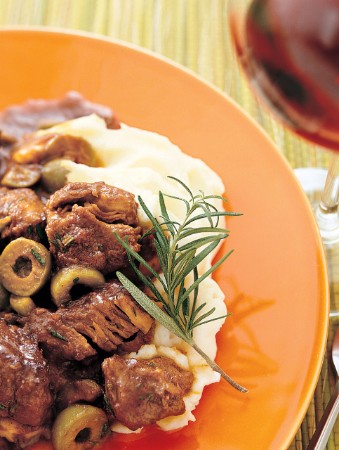 Pork in Red Wine
Spring 2005
BY: Lucy Waverman
A rich tasty pork stew that goes well with mashed potatoes. This can be made up to 2 days ahead of serving and it freezes well too.
1 onion, sliced
2 cloves garlic, sliced
1 medium carrot sliced
The rind of one orange, removed with a vegetable peeler - making thick strips
6 peppercorns
6 coriander seeds
2 cups (500 mL) red wine
2½ lbs (1.25 kg) pork shoulder cut in 1-inch (2.5-cm) cubes
2 tbsp (25 mL) olive oil
Salt and freshly ground pepper
1 tbsp (15 mL) chopped fresh rosemary
1 cup (250 mL) chicken stock
1 cup (250 mL) canned tomatoes, roughly chopped
½ cup (125 mL) sliced green olives
1. Combine onion, garlic, carrot, orange rind, peppercorns, coriander seeds and red wine in a pot. Bring to boil, boil 1 minute, then cool.

2. Place pork in a bowl and pour over marinade. Marinate for 4 hours to 24 hours, refrigerated. Remove orange rind.

3. Preheat oven to 325ºF (160ºC).

4. Strain marinade from pork reserving marinade, and pat pork dry. Heat oil in skillet over high heat. Season pork with salt and pepper and rosemary and add to skillet. Brown well on each side and remove to ovenproof casserole.

5. Add reserved marinade to skillet and scrape up any brown bits, bring to boil and boil for 5 minutes or until reduced by half. Add stock and tomatoes. Simmer together for a few minutes, then pour over pork. Cover casserole.

6. Bake for 2 hours or until pork is tender. Remove pork from casserole and reduce sauce until slightly thickened. Add olives and meat and reheat when ready to serve.
SHARE