Plum and Parmigiano Salad with Red-Wine-Fennel Syrup
Summer 2020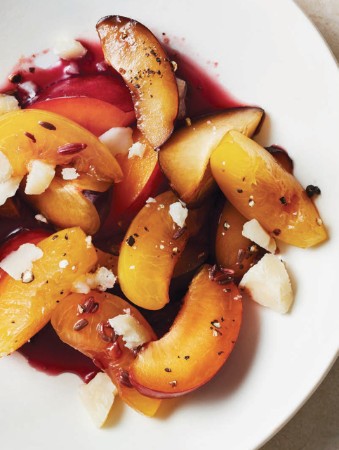 Plum and Parmigiano Salad with Red-Wine-Fennel Syrup
Summer 2020
BY: Eric Vellend
The lovechild of a cheese course and dessert finds ripe plums and nutty Parmesan drizzled with a vibrant syrup of red wine, honey and fennel seeds. Think about this salad well in advance so the plums have a chance to ripen, and if your budget allows, splurge on Parmigiano-Reggiano that's been aged at least 36 months.
1 small ripe black plum, about 3 oz (85 g), diced
¼ cup (60 mL) red wine
¼ cup (60 mL) honey
1 tbsp (15 mL) red wine vinegar
2 tsp (10 mL) whole fennel seeds
1 ½ lbs (680 g) mixed ripe plums
3 oz (85 g) Parmigiano-Reggiano (at room temperature), broken into ½-inch (1-cm) chunks
Freshly ground black pepper to taste
1 In a small saucepan, bring black plum, wine, honey and vinegar to a boil over medium-high heat. Reduce to a simmer and cook, stirring occasionally, for 5 minutes. Fine strain into another small saucepan, pressing solids to extract syrup. (Discard solids.) Stir in fennel seeds, cover, and let stand 30 minutes. Remove lid and cool to room temperature. Transfer to a glass jar. Cover and refrigerate up to 1 month.

2 Halve and pit plums. Cut into wedges and slices, and arrange on a serving platter. Arrange Parmigiano over plums. Drizzle generously with syrup, saving the rest for another use. Season lightly with pepper.
SHARE