Pineapple Rum Punch
Early Summer 2020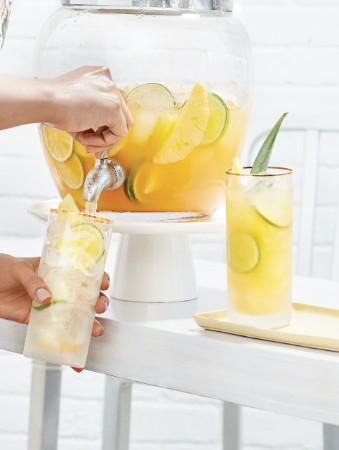 Pineapple Rum Punch
Early Summer 2020
BY: Eric Vellend
Good things happen when rum and pineapple juice meet. A simple spin on Planter's Punch, this drink gets its edge from Angostura bitters. While the recipe shines brightest with the winning combination of funky Jamaican and spicy Guyanese rums, feel free to use whatever rums happen to be in your liquor cabinet. You could also save the pineapple leaves for additional garnish.


1 cup (250 mL) aged Jamaican rum
1 cup (250 mL) aged Guyanese rum
3 cups (750 mL) pineapple juice
¾ cup (175 mL) strained fresh lime juice
½ cup (125 mL) Simple Syrup
16 dashes Angostura bitters
6 cups (1.5 L) ice cubes, about 1½ lbs (680 g), plus more for serving
Pineapple wedges and lime wheels for garnish
1 In a 16-cup (4-L) drink dispenser or punch bowl, pour in rums, pineapple juice, lime juice, Simple Syrup and bitters. Stir. Add 6 cups ice cubes and pineapple wedges and lime wheels.

2 Serve with chilled glasses and ice cubes, and garnish with pineapple wedges and lime wheels.


SIMPLE SYRUP
Bring 1 cup (250 mL) water to a boil in a small saucepan. Add 1 cup (250 mL) granulated sugar. Stir until dissolved. Remove from heat. Let cool completely. If making ahead, syrup will keep well stored in a resealable container in the fridge for at least 2 weeks.
Makes 1½ cups (375 mL) syrup
SHARE