Pickled Peppers & Beans
Summer 2018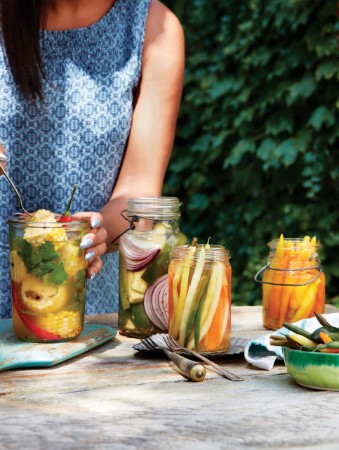 Pickled Peppers & Beans
Summer 2018
BY: Christopher St. Onge
Not all dried oregano is equal. Be on the lookout for wild oregano, often from Greece, sold dried and still on the stalks in clear cello bags. These pickles are always the first to disappear from my fridge.
1½ lbs (680 g) green beans, yellow wax beans or a combination
3 cups (750 mL) Basic Brine (recipe follows)
3 tsp (15 mL) dried oregano
12 cloves garlic
2 large sweet bell peppers, cored and sliced into
½ inch thick (1 cm) strips
1. Blanch the beans in boiling water for 2 minutes; drain and immediately plunge into cold water. Drain once again.

2. Combine brine, dried oregano and garlic in a small pot. Boil for 2 minutes and let cool to room temperature. Pack four 2-cup (500-mL) jars with beans and bell peppers; distribute garlic evenly between jars. Top with brine, cover and refrigerate for at least a day before consuming (keeps for 1 week in the fridge).
Makes four 2-cup (500-mL) jars
REFRIGERATOR PICKLES BASIC BRINE

I love refrigerator pickles. With little to no effort, you get days' worth of crunchy, healthy snacks. Pretty much any seasonal veg can be pickled. Use this brine in the four recipes that follow.

2 cups (500 mL) water
1 cup (250 mL) white vinegar
1 tbsp (15 mL) kosher salt
1. Combine water, vinegar and salt; stir to dissolve salt.
SHARE