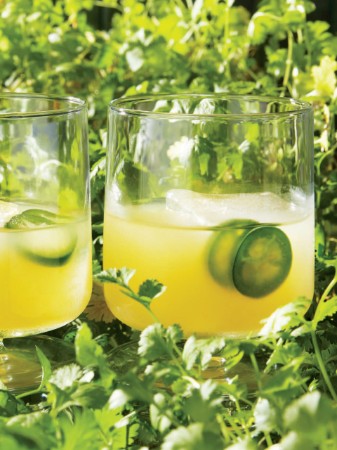 BY: Eric Vellend
Sweet, sour, spicy and smoky, this complex cocktail would be a big hit at your next taco party. Like tequila, mezcal is an agave-based spirit from Mexico, though it differs in that the agave hearts are slow-roasted in a pit, which imparts a robust smoky flavour similar to peaty Scotch.
1 ½ oz Jalapeño-Cilantro-Infused Tequila (recipe below)
½ oz mezcal
2 oz pineapple juice
1 oz strained fresh lime juice
½ oz agave syrup
Cilantro leaf and jalapeño slice
1 Place tequila, mezcal, pineapple juice, lime juice and agave syrup in a cocktail shaker. Fill three-quarters with ice. Shake until ice cold, about 12 seconds. Strain into a chilled Lowball glass over 1 large cube. Garnish with cilantro and jalapeño.

JALAPEÑO-CILANTRO-INFUSED TEQUILA
To keep the spice level palatable, it is important to taste frequently during the infusion process—set a timer, if you have to. This spicy tequila is also terrific in a classic Margarita or as the base spirit in a Bloody Mary.
1 jalapeño pepper, sliced into rounds (with veins and seeds)
⅓ cup (80 mL) chopped cilantro with stems
1 cup (250 mL) 100% agave blanco tequila
1 In a clean glass jar, combine jalapeño, cilantro and tequila. Cover tightly with lid. Gently shake. Taste every 10 minutes until it reaches desired heat level. Depending on the spiciness of the peppers, it could take anywhere from 20 minutes to an hour.

2 Pass tequila through fine-mesh strainer, discarding solids. Transfer tequila to a clean glass jar. Refrigerate up to 6 months.
SHARE