Phyllo-Wrapped Zucchini Sticks
Summer 2005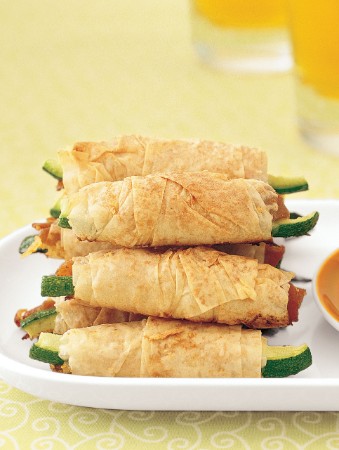 Phyllo-Wrapped Zucchini Sticks
Summer 2005
BY: Jennifer MacKenzie
Crispy layers of phyllo wrapped around roasted zucchini make an interesting appetizer to nibble. The Parmesan and prosciutto are the perfect accents for the delicate flavour of zucchini. Have them wrapped and ready in the refrigerator to bake at the last minute. Serve with heated thick tomato sauce for dipping as finger food or place on top of a green salad for a new twist on the crouton.
1 zucchini, about 8-inches (20-cm) long
3 sheets phyllo pastry, thawed
3 tbsp (45 mL) butter, melted
1/3 cup (75 mL) freshly grated Parmesan cheese
3 thin slices prosciutto, finely chopped
1. Cut zucchini in half crosswise and trim off ends. Cut each half lengthwise into ¼-inch (5-mm) thick slices. Cut each slice into ¼-inch (5-mm) thick sticks, discarding centre seed sections so each stick has green skin. You should have about 36 sticks.

2. Place 1 sheet of phyllo on work surface and brush lightly with butter. Cut crosswise into 6 strips then lengthwise in half to make 12 strips. Sprinkle evenly with one-third of the Parmesan. Place a few pieces of prosciutto across 1 short side of each strip about 1-inch (2.5-cm) from bottom edge. Place 1 zucchini stick on top of prosciutto, letting ends hang over edges of phyllo strip. Roll up jelly roll-style and brush outsides of phyllo and zucchini lightly with butter. Place seam-side down on parchment-lined baking sheet, at least ½-inch (1-cm) apart. Repeat with remaining phyllo sheets and filling ingredients. (These can be covered and refrigerated for up to 1 day.)

3. To serve, preheat the oven to 450ºF (230ºC).

4. Bake for about 8 minutes or until pastry is golden and crisp. Serve immediately.
SHARE