Peach Tart Tatin with Ice Cider Syrup
Summer 2014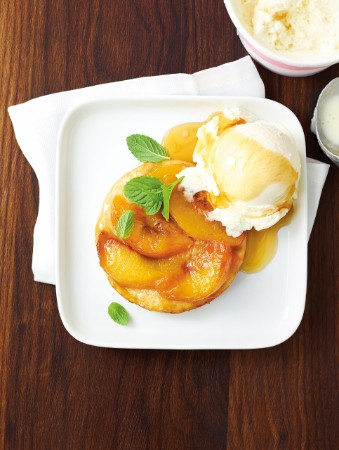 Peach Tart Tatin with Ice Cider Syrup
Summer 2014
BY: Lucy Waverman
A tart tatin is an upside-down tart with a sweet pastry filled with tender fruit. In this version, I reduced the ice cider down until it formed a rich syrup for both cooking the peaches and drizzling later on ice cream. An easy and sensational dessert!
1 bottle (375 mL) ice cider
1 cup (250 mL) all-purpose flour
½ tsp (2 mL) salt
¼ cup (60 mL) icing sugar
½ cup (125 mL) cold butter, cut into small pieces
4 peaches, peeled and cored
¼ cup (60 mL) sugar
Vanilla ice cream
1 Bring cider to a boil in a medium pot. Simmer until reduced to about ⅓ cup (80 mL) thick syrup, about 25 minutes. Remove from heat and cool.

2 Mix flour with salt and icing sugar in a large bowl. Add butter and rub in with your fingers until it resembles coarse meal. Squeeze into a ball and press into a disc. Refrigerate for 30 minutes. Grease ramekins, each ⅔ cup (150 mL) with butter.

3 Roll dough on a lightly floured surface into ¼-inch (5-mm) thickness. Cut out 4 rounds slightly larger than the rim of the ramekin. Prick each round with a fork and transfer to a plate. Cover and refrigerate.

4 Preheat oven to 375°F (190°C).

5 Slice peaches and place in a bowl. Add sugar and ¼ cup (60 mL) cider syrup. Mix until peaches are evenly coated. Divide between ramekins. Set on a baking sheet and bake for 15 minutes or until peaches are softening and mixture is bubbling.

6 Remove from oven and set a pastry round overtop each ramekin. Return to oven and bake for 15 to 20 more minutes, or until pastry is golden. Remove from oven and let cool for 10 minutes.

7 Turn out onto serving plates so that pastry is on the bottom. Serve warm or at room temperature with vanilla ice cream and drizzle with remaining cider syrup.
SHARE